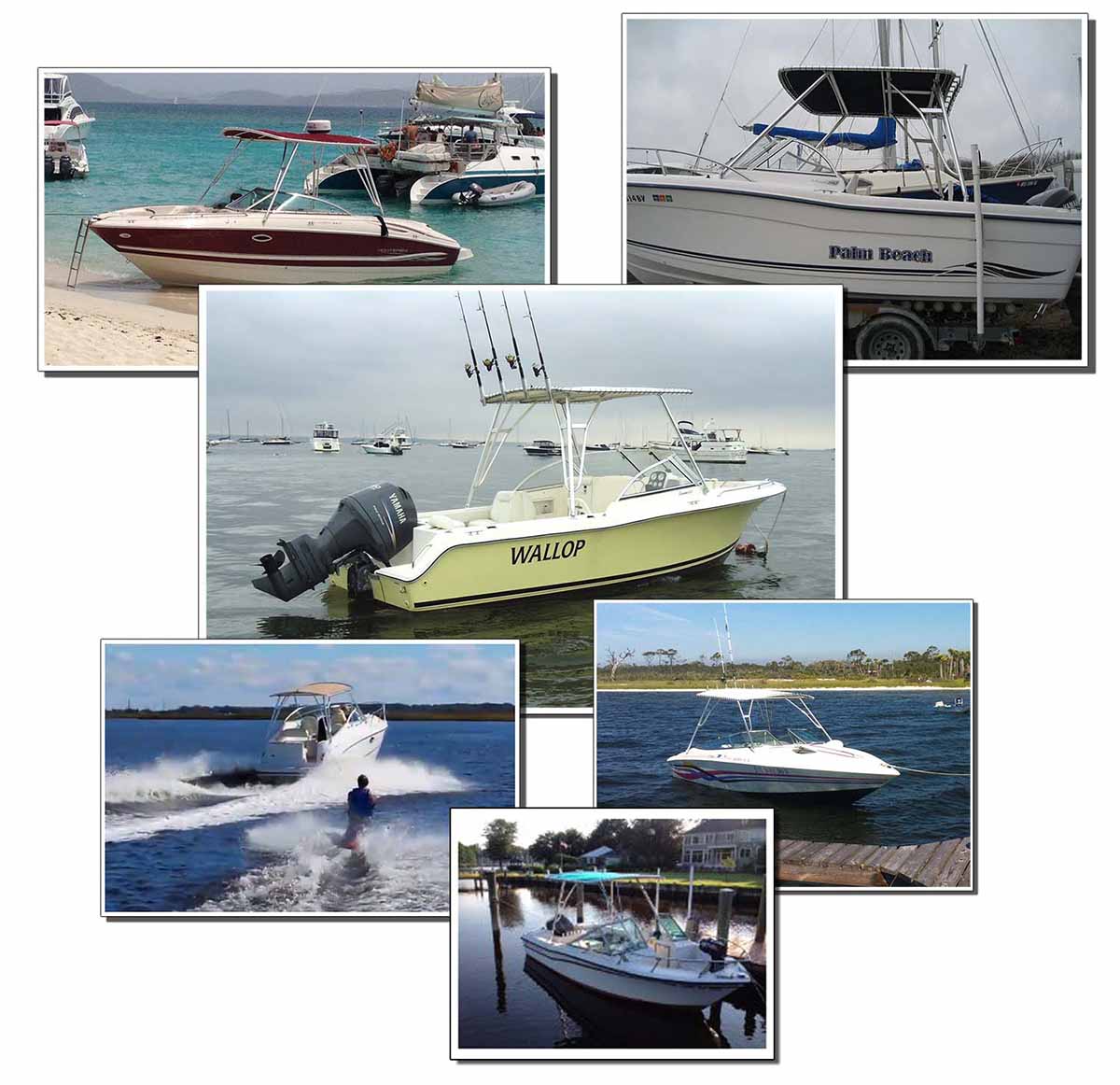 Fourteen years ago, Atlantic Towers pioneered the concept of "Tower in a Box" fully adjustable T-Top and Arch kits which ship KD and can be readily adapted to fit a wide range of boats. With the introduction of the "Mediterranean Sun Top" Atlantic Towers took the "TIAB" concept to a whole new level.
Available immediately from stock in 5 Sunbrella colors, the entire tower ships in one large and one small carton. Using Atlantic Towers' proprietary clamps and fittings, the tower assembles quickly without drilling or welding, and the feet are fully adjustable for beam, fore and aft dimension,
overall height and foot pad angle.
82" wide, 82" long the SunTop fits most Bow Rider, Dual Console, Windshield Aluminum, Express, and Open style boats to 9+' beam. Fully adjustable, port to starboard and fore and aft with all mounting fittings and hardware for a normal installation included.
Extra Long 82" x 102" version also available.
- Radar mount included
- Double wall thickness schedule 80 cross beams
- Reinforced for optional Tow Knob
Tow Knob Option Available.
See Below.



Atlantic Tower's SunTop is shipped complete in two cartons weighing a total of 140 pounds. Careful packing insures against disappoints on arrival, and makes shipping anywhere in the world possible.
The SunTop is completely adjustable.
The forward legs are adjustable two ways:
1) The rear legs are adjustable for beam (width)
2) The height is adjustable by trimming the legs before installing base fittings
The feet may be installed vertically or horizontally. The height and attitude of the SunTop II may be adjusted by trimming the length of the aluminum legs before installing the base fittings.
Everything is included for a complete installation.

Proprietary Fittings make assembly and adjustment fast and easy.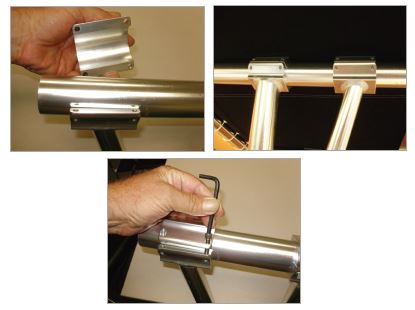 Available Options:
Watersports Tow Knob(KIT05000)
Welded towing fitting on reinforced frame allows you to easily tow watersports riders.195


Individual Adjust-O-Launcher Option (AJ30500C)
Aluminum rod holders can be mounted anywhere on the perimeter of the Sun Top frame. A unique patented design available exclusively from Atlantic Towers, manufactured from all aluminum in natural aluminum anodized finish Adjust-O-Launchers can be pivoted thru 12 positions for unmatched flexibility. $99 each / 4 or more $89 each
Gold Anodized finish available for special order.
Please call 732-237-8800

55 Watt Deck Lamps Option
55 watt conventional halogen deck flood lamp with replaceable bulb in waterproof housing. Current draw, 4.8 amps each, 9.6 amps a pair at 12 volts. Wire with minimum 14 gauge (always used tinned stranded wire for marine applications). Includes choice of mounting bracket to fit any Atlantic Towers structure.
Sold in Pairs
Tower in a Box Arches - Pair MP15000 with KIT54000 Light Mount: $149
Custom Arches - Pair MP15000 with KIT54000 Light Mount: $149

KIT22100 Antenna Bracket Option
Antenna Bracket threaded 1"-14 for mounting VHF, GPS and other antennas. Clamps to perimeter of Sun Top for fast installation. $109

Anchor/Running Light Option
A two way navigation lamp installed on an anodized aluminum mast with anodized finish to match the Sun Top. Functions as all round light with both sides illuminated, or forward steaming light with just forward half illuminated. Custom fitted shoe allows easy bolt-on installation on perimeter of Sun Top. Choose 5" height or 18" height.$169
**LED option is an all around navigation light for boats under 26' **
MA22000A
5" Anchor Running Light with LED Head
MA22000P
5" Anchor Running Light with Perko 2 Way Head
MA22200A
18" Anchor Running Light with LED Head
MA22200P
18" Anchor Running Light with Perko 2 Way Head
>
**NOTE: There is a 10% re-stocking charge for cancelled or returned merchandise**
Due to our dedication to continued product improvement, we reserve the right to make changes without notice.