The Super Tramp has a high strength welded frame of schedule 40 marine grade aluminum pipe which measures 1.9" outside diameter with extra thick schedule 80 cross members, finished in durable salt resistant bright clear anodizing.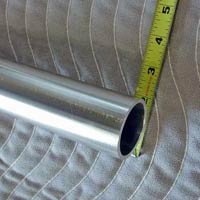 ---
Every Super Tramp T-top has welded integral hand rails and braces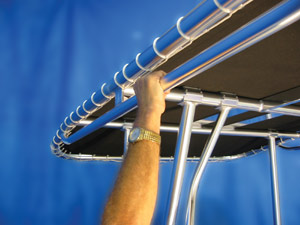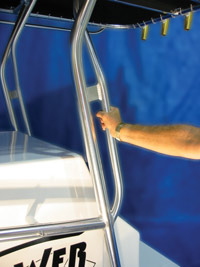 ---
66" x 90" Super Trampoline Style Sunshade comfortably covers the console area of boats to 30' or more.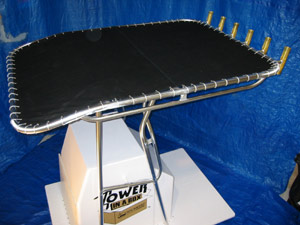 ---
Fully adjustable legs fit console widths up to 64" wide, Custom extruded clamp assembly makes adjusting beam with between legs easy, but provides permanent attachment when tightened.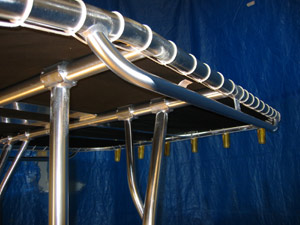 Wiring may be concealed inside the frame.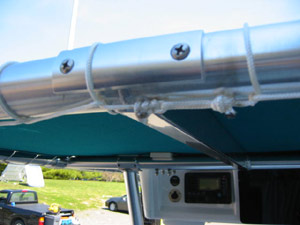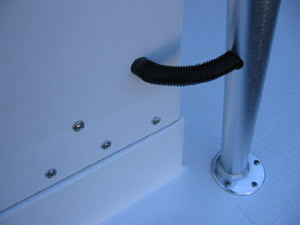 ---
Choice of 4 "Trampoline" colors at no additional charge.

---
Six mounting points secure the Super Trampoline T-top for most installations, Optional additional standoffs and braces are available for unusual console styles or heavy duty applications. There are no "give-ups" here. Our quality of materials and and TIG welding equal or exceed that of custom shops.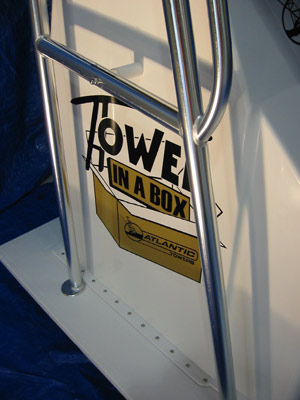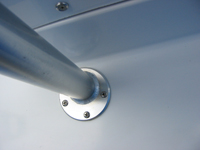 ---
Aerodynamic styling helps wind pressure push down on the "Super Trampoline" T-top when towing or running in flat water.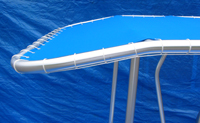 Available Options:
Welded Six Rod Rocket Launcher Option
Features six aluminum tapered rod holders with an anodized finish. Each rod holder features a welded butt pin and vinyl liner to protects your rods. $400

KIT24240 Diagonal Brace Option
A few center console boats may provide limited areas to install the standard side brace, or if you have mounted a great deal of heavy equipment on your Trampoline T-Top, such as electronics enclosures, radar, etc, you may want the added stability and support of diagonal sway braces. Fully adjustable and may be secured either on top of the console or on it's forward face. $289

Individual Adjust-O-Launcher Option (AJ30500)
Aluminum rod holders can be mounted anywhere on the perimeter of the "Trampoline" T-top frame. A unique patented design available exclusively from Atlantic Towers, manufactured from all aluminum in natural aluminum anodized finish Adjust-O-Launchers can be pivoted thru 12 positions for unmatched flexibility. $99 each / 4 or more $89 each
Gold Anodized finish available for special order.
Please call 732-237-8800

55 Watt Deck Lamps Option
55 watt conventional halogen deck flood lamp with replaceable bulb in waterproof housing. Current draw, 4.8 amps each, 9.6 amps a pair at 12 volts. Wire with minimum 14 gauge (always used tinned stranded wire for marine applications). Includes choice of mounting bracket to fit any Atlantic Towers structure.
Sold in Pairs
Tower in a Box Arches - Pair MP15000 with KIT54000 Light Mount: $149
Custom Arches - Pair MP150 with KIT54000 Light Mount: $149

KIT22100 Antenna Bracket Option
Antenna Bracket threaded 1"-14 for mounting VHF, GPS and other antennas. Clamps to perimeter of "Trampoline" t-top for fast installation. $109

Anchor/Running Light Option
A two way navigation lamp installed on an anodized aluminum mast with anodized finish to match the "Trampoline" T-top. Functions as all round light with both sides illuminated, or forward steaming light with just forward half illuminated. Custom fitted shoe allows easy bolt-on installation on perimeter of "Trampoline" T-top. Choose 5" height or 18" height. $169
MA22000A
5" Anchor Running Light with LED Head
MA22000P
5" Anchor Running Light with Perko 2 Way Head
MA22200A
18" Anchor Running Light with LED Head
MA22200P
18" Anchor Running Light with Perko 2 Way Head
KIT21000 Pair of Starboard™ Mounting Bars Option
The pair of Starboard™ Mounting Bars allows installation of equipment such as radar by bolting thru top fabric into mounting bars. May also be used to support overhead electronics consoles. $159
**NOTE: There is a 10% re-stocking charge for cancelled or returned merchandise**
Due to our dedication to continued product improvement, we reserve the right to make changes without notice.