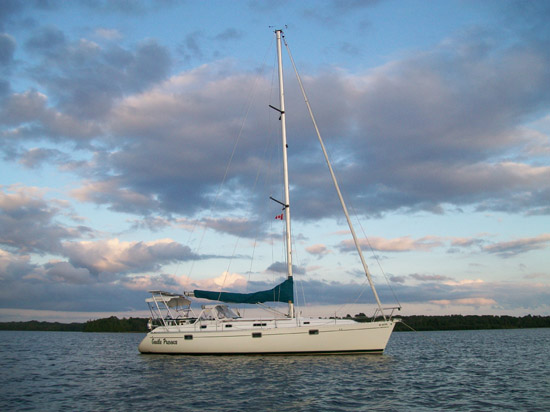 Shelley I bought a radar arch last spring for our Beneteau Oceanic 400. We are using it to support solar panels. It was easy to install (all in one weekend) and looks great. We had many comments and questions during our summer cruising. You can have any perpective customer contact me with questions. Mike Middleton
Hi Shelley,
Just wanted to send u some pics of the new top from my 27 carver santego. It looks great!
Thanks again, Jody Midgley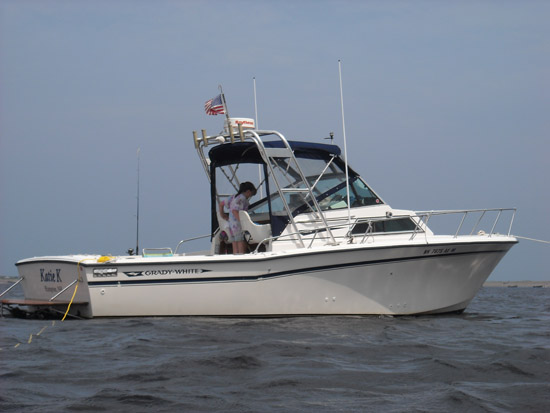 Bought this radar arch a few years ago and didn't have a digital camera.
So here it is!
25' Grady, 1985 Sailfish
Love the product, thanks so much!
John Karmen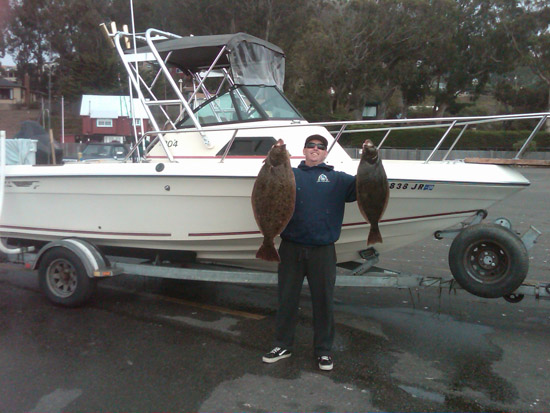 Here is my 1988 Chaparral 204 WA with your Tower in a box installed. Oh ya and that's me w/ a 20 and 10 pound California halibut. I installed it myself. It was not difficult-it just took a lot of measuring and contemplating to drill the first set of holes. I could have installed it in one long day if I would have had an extra pair of hands. I could install the next one quit a bit quicker as there is a learning curve involved. The hardest part was getting the angle correct on forward caster blocks. The 2 halves kept sliding and changing the angle I was trying to achieve. I solved this by using blue 3M painters tape and a small clamp to hold the two halves at the proper angle while I drilled the screw holes on the workbench. If the two halves of the front castor blocks mated with grooves you would loose a bit of fine adjustability, but it would be easier to find and keep your angle during the mounting process. I love my tower and it is holding up perfectly as its first season comes to an end. It looks so nice that I need a newer boat to match it!! Thanks for the great product. Noah Evans Water Distribution Supervisor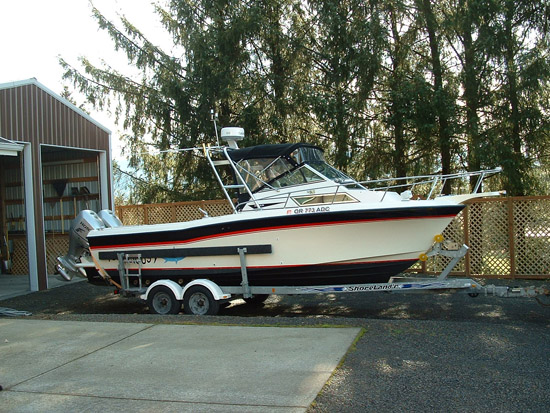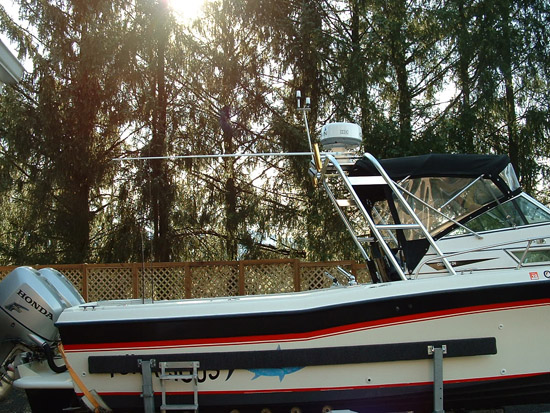 Hi Shelley and Carol, I think you already have our photos, but in case you don't, we are attaching photos to this email. Regarding the installation, Jerry did it himself, and with the help of your video instructions, he said it was a no-brainer. He was VERY impressed with the quality of the radar tower. Regarding recommendations of service vendors in our area, we would highly recommend a shop in Portland, Oregon for custom canvas work. It is called Carol's Custom Canvas and Upholstery, Inc. (phone 503-289-3530). As for the boat show, we would like to go to the Seattle boat show at the end of January. The day we want is Saturday the 30th. Thanks, Jerry and Jean Hines
Hi,

This message is for Steve… I just wanted to let you know I received the replacement parts for my Radar Arch and all is well. Your company is the bomb. I appreciate the fast and friendly service which is rare these days , but you backed up your products without a question and I will continue to tell everyone I know to go to you for any aluminum work for their boats. That is a given. In any event you have a wonderful day.

Sincerely, Jeff Wiley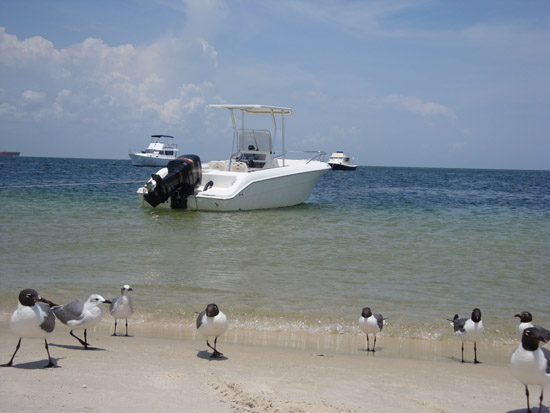 T-top worked flawlessly.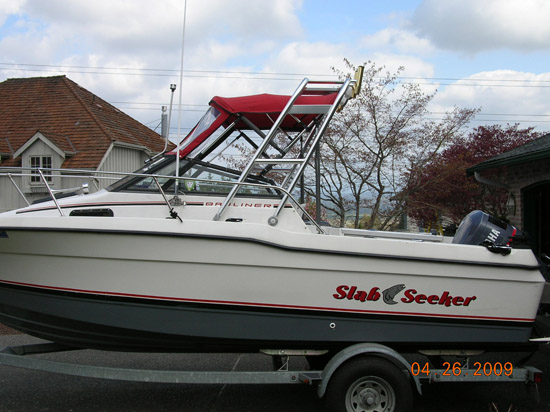 Hi Shelly, I was singing the praises about my Atlantic Tower Fishing arch on a local fishing forum today and someone asked me for photos. That reminded me that I had forgotten to send you photos of my installed arch so here they are. The boat is a 21' 1991 Trophy. I bought the arch last winter and picked it u at the Seattle Boat show. I love it and get a lot of compliments about the arch. If you would like to use any of the photos on your site you have my permission. Thanks, Ken Schroeder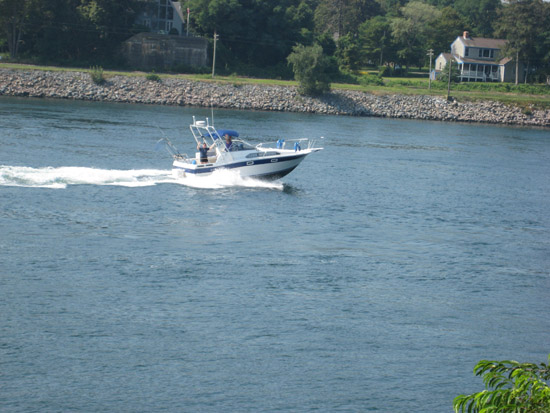 Dear Shelly, I am in receipt of your request for customer response and photos of my Atlantic Towers Radar Arch that was purchased at the New England Boat Show in February 2009. I was skeptical at first that this purchase could be so easy and installation even easier. We conversed a few times on the phone before I decided to purchase. You promised me great instructions and also superb customer support. I finally decided on the radar arch, with the folding hinge kit. I would need to drop the arch for transport in the spring and fall. Delivery of my arch was on time and the packaging was unbelievable! I had some questions and was able to speak directly to your engineer, Steve who was only too happy to talk me through the installation and ALWAYS took my 5 calls, even on a Saturday afternoon! In short, I am most pleased with the product, quality and customer support. I would say that I over complicated the installation by over thinking. Yes, there is a little "backyard engineering" needed, but if I could do the installation in about 8 hours, anyone can do it. I have attached 3 photos of the finished product. For those who may wonder, this radar arch is built like a TANK and has never swayed or rocked, even at plane while my 28' Bayliner has been airborn. Data: 1984 Bayliner Contessa Sunbridge 2850 with 10' beam. Tony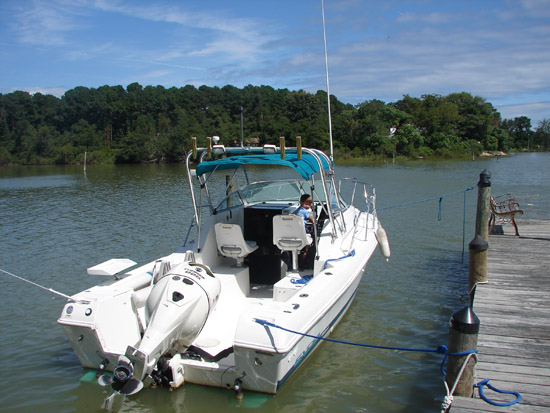 Hey Guys- Things went smoothly – love the arch. Unfortunately, I chose the hottest day of the year here on the Chesapeake to install the arch. Between the heat and the boat being in the water and near heat exhaustion…the arch tipped 5 degrees forward than anticipated (not parallel with the boat line)…I've toyed with whether or not to correct it, but have decided against it for various reasons! My father-in-law worked in the boat industry for years during the 70's and 80's and had never seen Atlantic towers products until now….he and I are thoroughly impressed with the quality workmanship. Thanks for the video…it really helped too! If tickets for the Annapolis Boat show are still available, we would love to attend. Thank you again for all the assistance…we look forward to putting it to use during Rockfish season very soon! Sincerely, Todd Allen DDS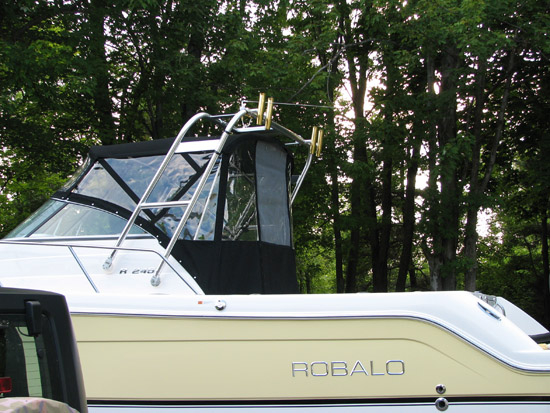 Shelley, The installation of my arch went fairly well on my 2007 Robalo 245. I worked alone so it took me quite a few hours to do the job, not to mention that I am a perfectionist. One thing that could be improved might be the addition of a plug of some sort for the inside of the folding arch bracket. The way it currently stands, water can enter, albeit slowly, through the bolt (axle) shaft holes. This is an issue if you are mounting to a finished cabin wall. The other issue I see is excessive lateral movement of the arch, that, with considerable preloading is still quite obvious. I might suggest including a gusset, either bolt on or permanently welded, along with the kit. Regards, Don Ross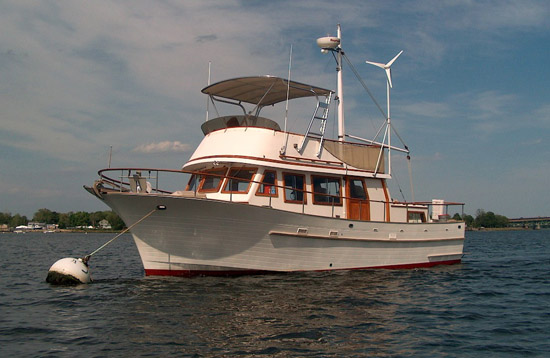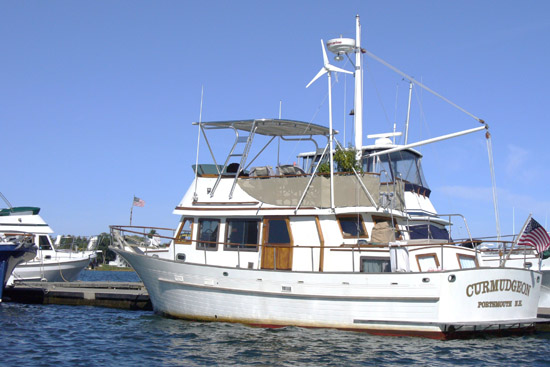 Hi Shelley we love the top. Here are a couple of photos Paul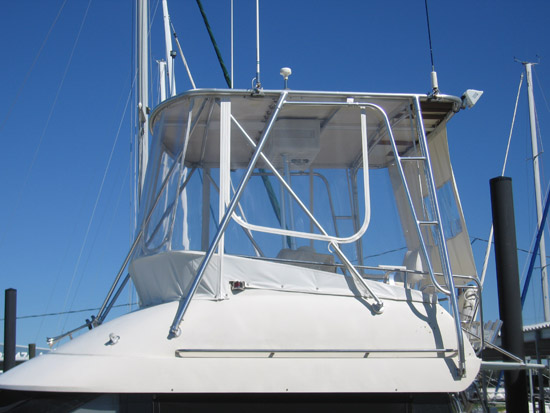 Shelley, I'm sending you some pictures of my completed Atlantic Tower Top which I installed myself on my 1990 Silverton 37' Sport Fishing boat. I did all the installation and refitting myself. Please feel free to call me at your convenience with any other questions that I can help you with. Thank you, Bron Jankowski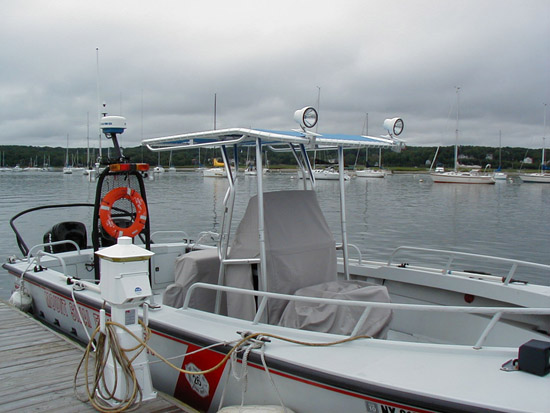 Dear Shelley,
Please find attached, pictures of our boat. We are very pleased our new T-Top. It is extremely sturdy and the installation was perfect (installed by the person you recommended). The console canvas had to be altered slightly by cutting and adding snaps to each side.
Jim Spates,
Mt. Sinai Fire Department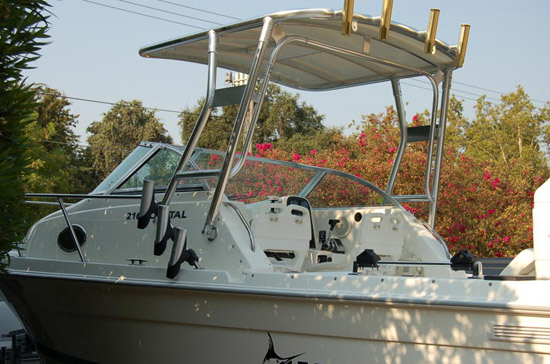 Here are some pictures of my boat just after we installed your hard top using your do it yourself instructions. It turned out excellent. This has greatly inhanced the comfort, functionality and overall fishing expirience of my craft. I am very happy and satisfied with the top, with the addition of the windows we had made locally fowl weather and overnight fishing is comfortable and much more enjoyable. Let me know if you use any of my pictures. Mark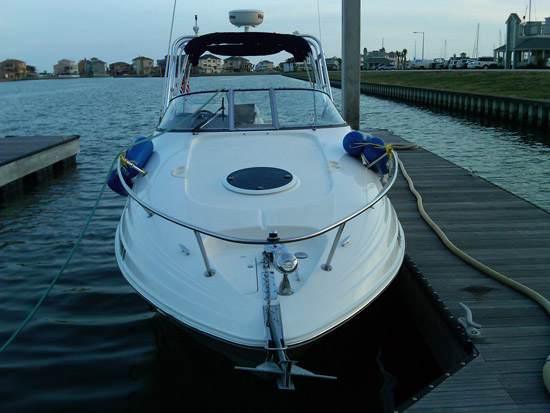 The complete process was completed by myself, including wiring and installation of electronic components. Would have been easier for two person, but I had to tackle along. Most difficult and time consuming process was running wires within the arch. protruding pipe pieces interferes and redirects wiring, making this a touch job. Complete wiring included radar antenna, gps antenna, satellite antenna, AIS antenna, light pole and lots of wiring. Overall, completely satisfied. Chapman, Archie J SR, CPT, MBA, MPM ™ SENIOR ARMY INSTRUCTOR CLEAR BROOK HS CCISD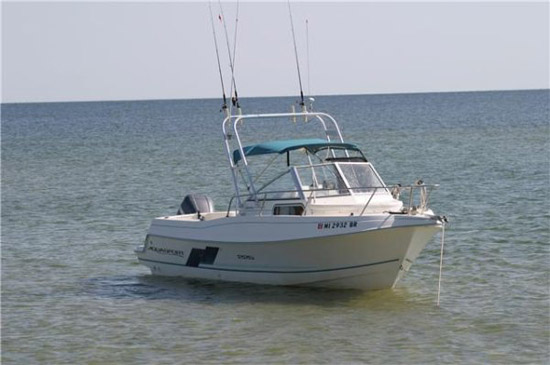 Below is a shot of the tower on my boat. It was taken off Horn Island in Ms. I purposely made it taller so I could open and close the bimini with little interference. I ran all wiring inside the tubes and so far am very happy with the product.
James Drago
We just wanted to let you know that we are very impressed by the quality of the radar arch. Also, the installation video was very helpful, and thank you for having the mounting kit shipped separately--it saved us a week. Thanks VERY much. Jerry and Jean Hines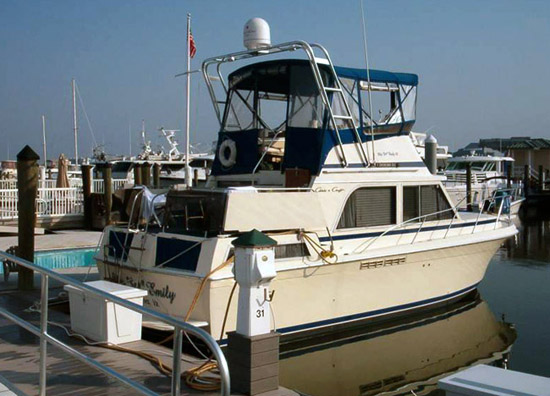 Dear Shelley, I received your letter dated October 29th about needing pictures for your new website. My wife and I made the trip from Newport News, VA to your location 2 years ago to pick up an arch for our 36' 1986 Chris Craft Catalina 362 (on our way back from a trip to Atlantic City)! It is used to mount the KVH satellite television antenna at the top. The arch was installed by Portsmouth Boating Center, 1244 Bay Street, Portsmouth, VA 23704. Phone number is 757-397-2092. I installed the spreader lights which you kindly provided me for free due to a boat show special myself. It has performed just great and we have been very happy with it. Pretty soon, it will be that time again to string the Christmas lights to it for the Holiday Season!! Hard to believe. Please let me know if you have any more questions. Here is a picture of our boat the "Miss Sea Emily". Thanks again for the wonderful service and hospitality we received when we made the pick-up. Sincerely, Lawrence Reidnour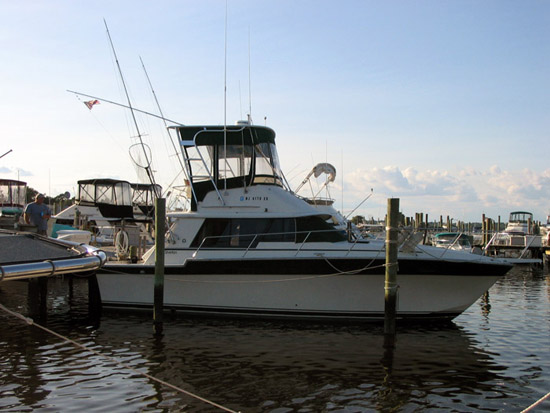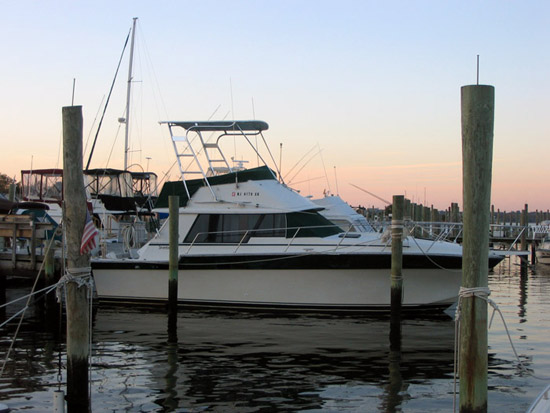 Hi Shelley, Here are some pictures of my 34 Silverton with the hard top installed last fall, and then in the springtime. Your product is great. The workmanship speaks for itself. I have received a lot of great compliments on how it's changed the whole look of the boat. A friend in my marina liked your products so much he purchased an arch from you last year... We installed it this past spring...His boat looks great. Thanks for all your help and wonderful service and staff... John Miller.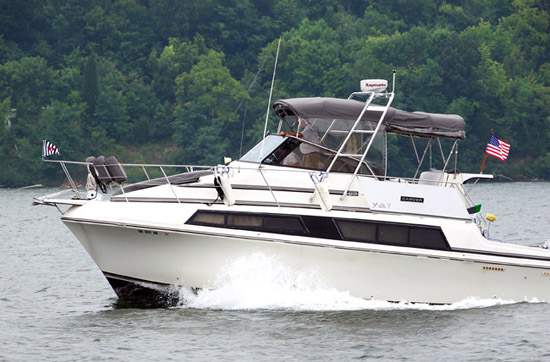 Shelley, Attached are a few photos of my 1986 Carver Mariner 32 with a folding Atlantic Towers arch installed. The photo running is after installation of the radar and GPS antennas, and I have since also installed an omnidirectional digital TV antenna as well. The other three photos are as we just completed installation. I did the installation with the assistance of a mechanic from my marina and we did it all in about 1.5 days. All went well except that once the arch is assembled to near bridge width, with the boat on a trailer it was a real challenge for the two of us (with me being 68 yrs old) to lift it up into place! An additional body would have been most helpful at that point. After we put the arch on, the boat was later launched for the season and my wife and I did the electronics installation. I had no trouble at all with the new anchor/nav light on the arch, nor on GPS antenna, both cables fed through the arch tubing well, although it was tricky to fish them past the weld reinforcements inside the tubes. I could not get the radar cable inside at all so, as a consequence, I mounted it externally on the trailing edge of the forward tube with stainless cable standoffs, and it worked out fine. (Raymarine 18 " radar). This season I added a TV antenna and was able to feed the TV antenna cable through the forward tubing on portside with little difficulty. Your product is very solid and I have used the hinging feature on it to fold the arch down to zip up the aft canvas over it so that we could get the boat into inside storage last year. Lowering and raising the arch from the folded position is also a two person job, with one pulling on a lead-line while the other inserts the hinge pins when aligned. If you have any questions, don't hesitate to e-mail me and I'll get back to you quickly. The boat is in the water this winter in a covered slip, so if any more photos are needed I could stop by the marina and snap a few more. By the way, thanks for the offer of boat show tickets, but I looked on your website and don't think we will be in any of the areas where your shows are scheduled. Dick Remski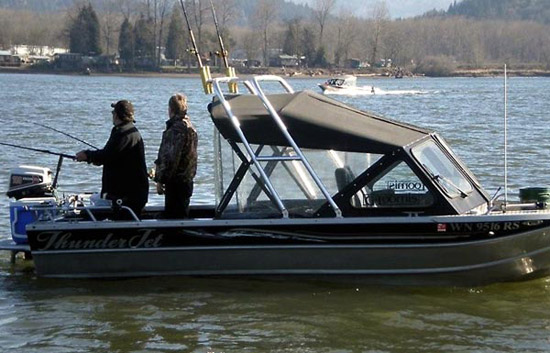 Here are a couple different photos. Choose which ever you want. I sure love it. I get a lot of compliments from my tower. -Mark