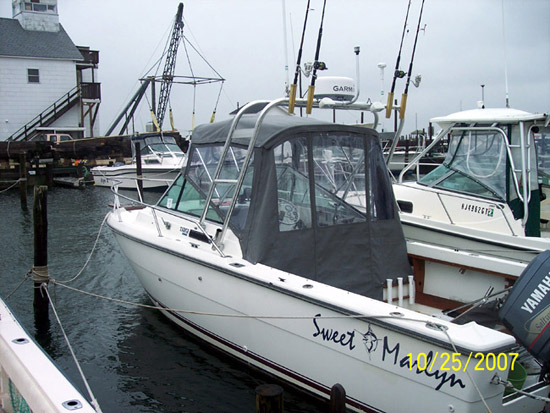 I received a letter in the mail from you a few weeks ago, asking for pictures of the fishing arch I purchased from you in July. The installation went great and DVD is INVALUABLE... it helped a lot to watch someone do it. I have attached before and after pics. The canvas work was done by Quick Canvas in Ship Bottom...EXCELLENT WORK!!! -B. Graham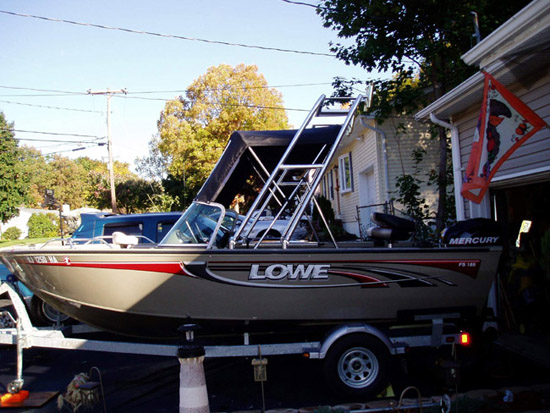 Shelley, Here is one of the pictures of my boat with the tower on it. I will send you a better picture in the spring. Hope this helps. I also need to know how much is a set of Adjust-O-Launcher Rod Holders will cost me and how long to you have them. Thank you, Rick Carrol.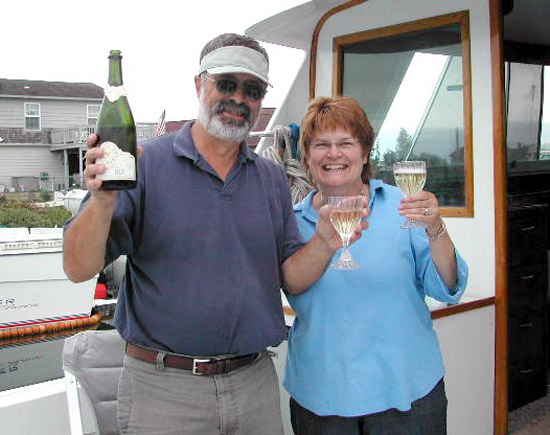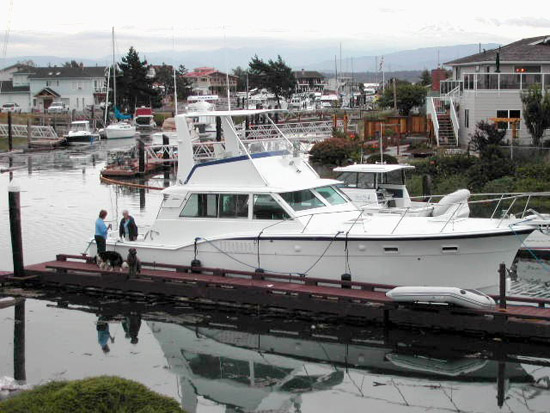 Shelley - These pics really don't do justice to the hardtop, so I'll send you more when we get them. The radar arch on the boat was not the best for this application, but now I actually like the look. The trailing edge of the top is lapped over the arch and then screwed into the arch's forward edge, making it really strong. For that reason, I haven't put on the forward transverse supports. I like the added visibility without them and the top is plenty stiff as it is. Please forward to Don Lucas. Thanks again for a great product. Feel free to use me for promotion of your hardtops. ...Ken Ehlers, 'Hatt Trick'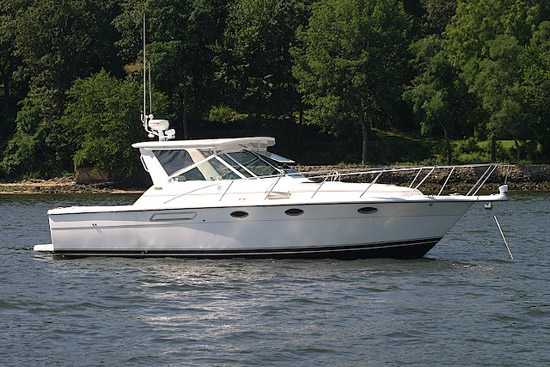 Bob K of Long Island, NY is so happy with his Atlantic Towers HiLine Hardtop, and his experience with Atlantic Towers, that he has published a complete website about the experience. For the complete story check out
www.tiarahardtop.com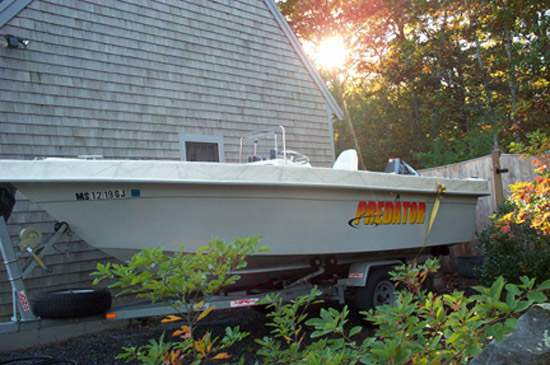 Dear Shelly, Thanks for your note as it was a reminder for me to send you some pictures of the boat. Overall, the installation went smoothly. My co-owner and I took 1 day to install the top (mid installation picture), one day for the additional stabilizers (we needed the 7/8 tap and an extra extender to the console which was cheerfully and readily provided by your staff) and all electronics ñ we added GPS and VHF on the top and wired in the halogen spreaders. The video was fine and the ambulance and motorcycle sound effects added to the surround sound experience in the video (a joke!) I provided pictures of pre-T-top, mid installation and loaded and in the water back from a day of fishing. Unfortunately, two weeks after that last picture, we hit some rough seas and with the low back transom boat, we were capsized (rescued without injury!). The large T-top did inhibit the tow companyís ability to right the boat, so we towed in upside down. At port, when righted with a crane, the T-top fiberglass was destroyed, but the frame held through all that stress. To make a bad story worse, the next day, when towing the boat to a marina for service, the trailer went out of control, jackknifed into my truck and the boat is totaled (again, I climbed out the window of the truck with just a scratch from the glass of a broken window). The force of that impact tore off the center console and did split the T-Top frame in half. Nevertheless, I am impressed with the strength of the Atlantic Tower T-top and will definitely buy another when I get around to purchasing another boat (although I will opt for the smaller size cover.) Therefore, the two of us would appreciate passes to a boat show as we are back to shopping for a boat once again. Sincerely, Gary Musso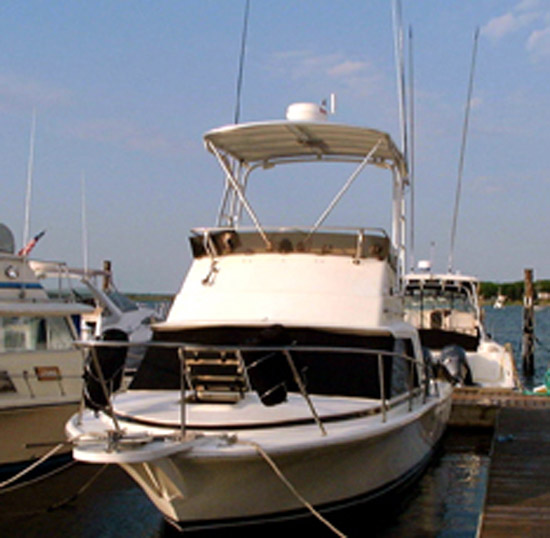 Shelley, I am absolutely thrilled with my new hardtop. I had wanted to replace an old heavy tuna tower for several years and tried all of the custom welders, no one could satisfy me that they would create something that would keep with the lines of the boat and be completed in a reasonable time and price. You did all of that. The tower went on easily. I had it installed in one day by myself. The dimensions were perfect and I love the way it looks, not to mention the lightweight design. Every aspect of our transaction from making the purchase at the boat show in NY to the delivery was above and beyond my expectations! Please feel free to post the photo. I haven't yet had the canvas enclosure finished but I will send you more photos after that is complete. Thank You, Steve Fastook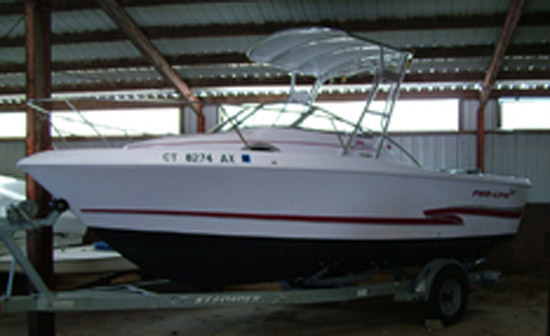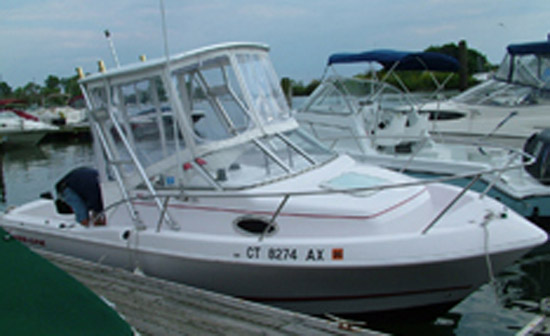 Dear Atalntic Towers Staff I love my new top.. it's the best part of going out on my boat other then fishing! My children and wife can come along and be out of the weather and enjoy the days on the boat be it nice or bad out. The install was a dream - it took my 13 yr old and my 11 yr old and 18 yr old and of course myself about 3 hours to do with ease. The instructions you provided with my top and hardware was very good and direct. I would recommend your products to any one that is interested in upgrading their boats. The construction of your product is class A in my book and a I'm looking forward to possibly putting on the front EE box supports. Here are a few pics of my boat with your custom top on.. Thank you, Marvin Gilbert and Family PS. Norwalk Show was a blast last year. Your display was great and staff was excellent. Looking forward to seeing you again this year. Shelly - would you contact me about the front supports for my top? Thanks!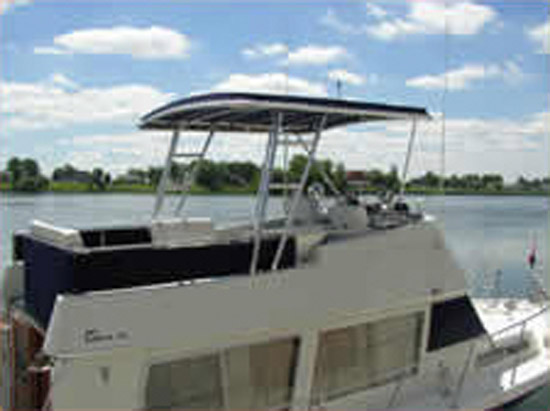 Shelley, I'm very pleased with the Top that your company custom built for me. I'm impressed by the quality of the work and above all very satisfied that the specifications I provided were met with precision. Installing the Top was easy because the fit was perfect. I'm glad I choose Atlantic Towers for this project. As far as I'm concerned, it couldn't get any better. Great Job. Many thanks. Martin Filfe Montreal, Canada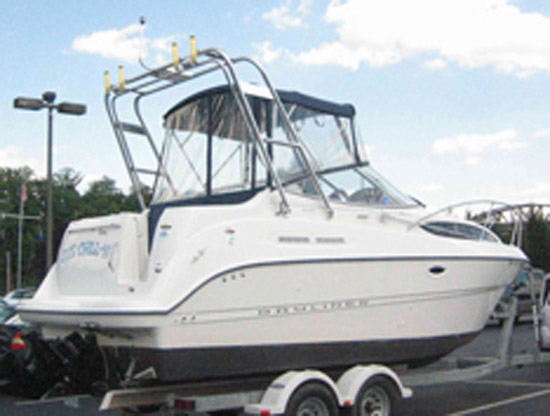 Hi... thanks for working with me and building a custom fishing tower for our 2002 Bayliner 2455. Looks Awesome! Jim Dooley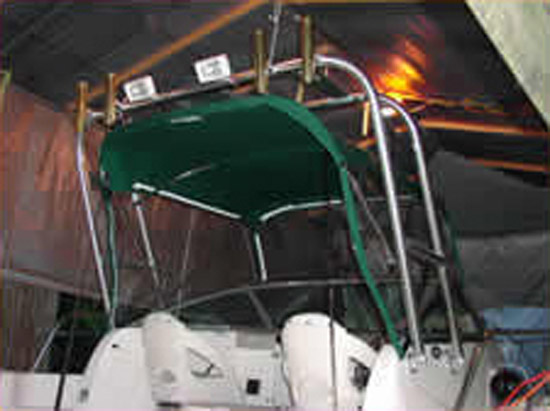 Hi Guys, Just wanted to say thanks and I'm very impressed with everything from the packaging/shipping to the design and video. I was probably a bit slower than most, since I had to do it solo and most of the work was done on the boat. Not easy to do alone, but possible. Just takes longer. Anyway, 26 hrs later I have it complete, aside from the wiring. The boat is an '03 Trophy 2302. Some preliminary pics. It's a bit tough to get a good shot with it under its cover, but you get the idea. Thanks again!
Hello, Shelley We received your letter the other day. As far as the installation, my husband and myself did everything together from finish to end. From watching the video to tightening the last screw, we didn't have any problems. You definitely need to set aside two days for installation, but you'll reap the awards and the best part about it was we didn't even fight! (any husband and wife team would relate to that!) We love how much we use it and how handy it is and least to say the impression it makes. Thank you for everything, Cheryl and J. Lindsay Wiley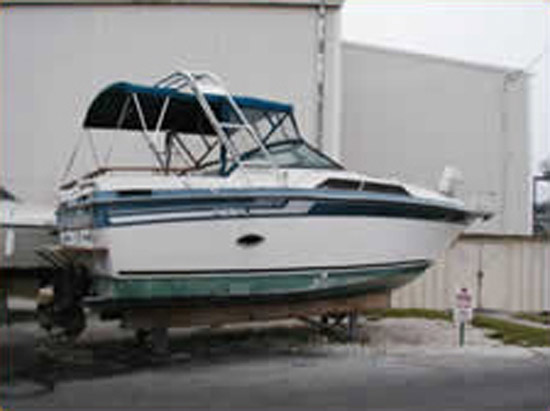 I just wanted to take a moment to tell you how very pleased the admiral and I are with our new Atlantic Towers arch. It beautifully complements the boats lines, is very well constructed and your delivery and packaging are second to none. Thanks for making such a great product; I have attached a few pictures that show how she looks. Best Regards, Scott & Anne Morris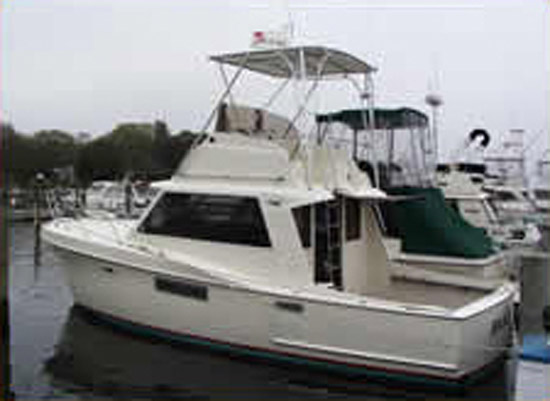 Hi Shelley, I wanted to get you a couple of photos of my 1966 Hatteras 34 Convertible "BANDIT" with its new hardtop, taken last Friday at Launch time. I've received many compliments on the way that it makes the boat look and how well the design of the top matches the boat's lines. I also really want to thank you and your team for your prompt and courteous customer service, during the sale, order process, delivery and follow-up. Thanks for the filler material that you sent a few weeks ago! all this adds up to a painless, and even enjoyable experience with the product. Please tell Dan that his mounting measurements are 100% right-on!... exactly where I wanted them, (and where they needed to be.) Again, Thank You. Regards, Mark Giovanniello Guilford, CT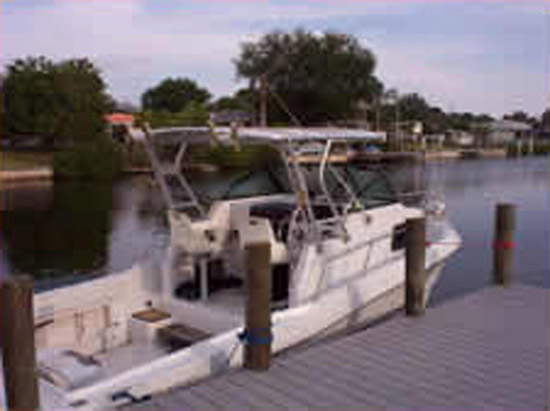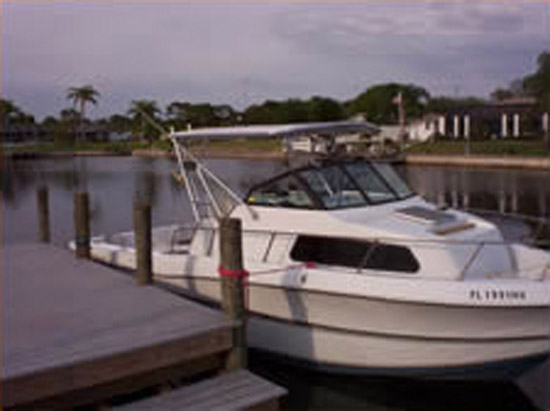 Hello All, I wanted to send you some pictures of the new hardtop. My parlrger and I installed this top with no complications in 8 hours. The Quality is exceptional; it is obvious that you have an excellent staff of craftsmen as is evident in the quality of welds and overall appearance. Your top created a tremendous change in the appearance and functionality of this boat. The rod holders add so much usability and the spreader lights are great for night fishing. In closing: I found the sales staff very helpful and much time was devoted to give me a delightful experience with your company. As an Aviation specialist in direct contact with my customers, I fully understand what is required to satisfy a customer. Atlantic Towers HAS totally satisfied me.....Start to finish. Atlantic Towers........ The Right Company! Richard Todd Port Charlotte, FL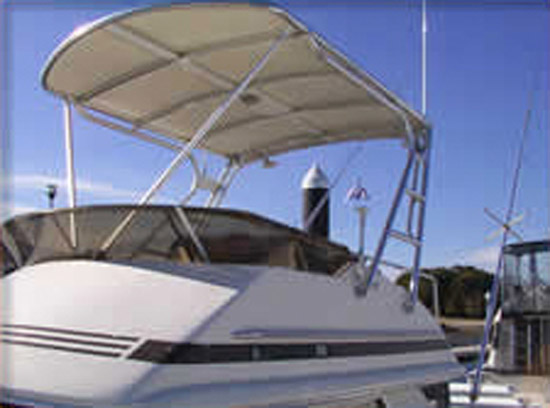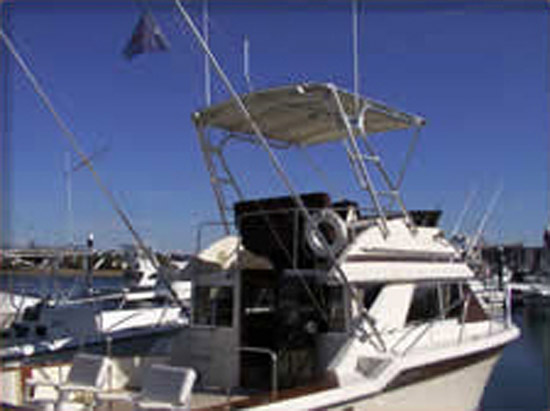 Shelly & Dan, I am forwarding some pictures of my new hardtop....It came out great. I was very happy with the installer and the design of the hardtop. I would recommend the professional installation to all who purchase the hardtop. Delivery was made as planned and was very pleased with being able to be involved in the design of the top. Thanks again for a great product and great service. Many people have had great things to say about my new hardtop. Jim Fallon (Boston, Ma.)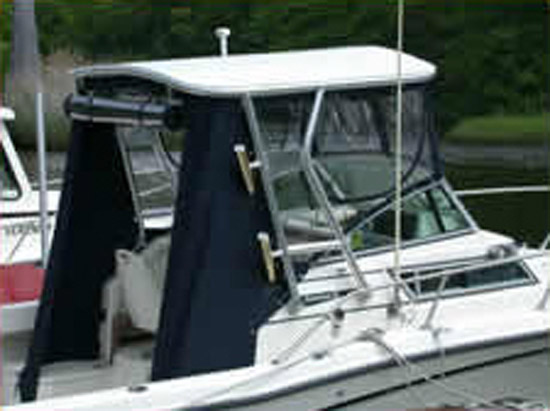 Thank you for the boat show tickets. I have attached a picture of the same boat with the canvas installed. The canvas was done by Serge and Friends of Deep River Ct.. I would highly recommend him for any work of this type. I thouroughly enjoyed the hardtop this season... Dave Vosgien... Southington, Ct.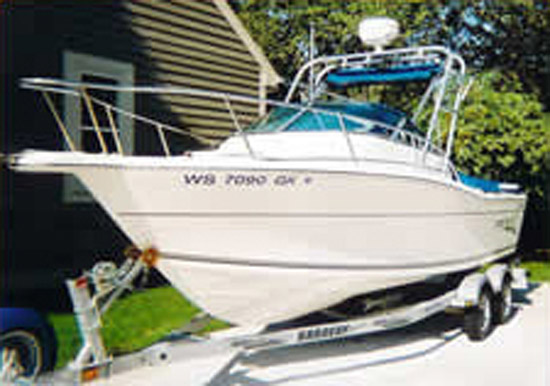 Hi, I purchased your Atlantic Towers Fishing Arch last year, and it has been absolutely wonderful. Here's some pictures of my 2002 221 WA Sport-Craft. So if you would like to post these pictures on your website, feel free. Thanks again. Mike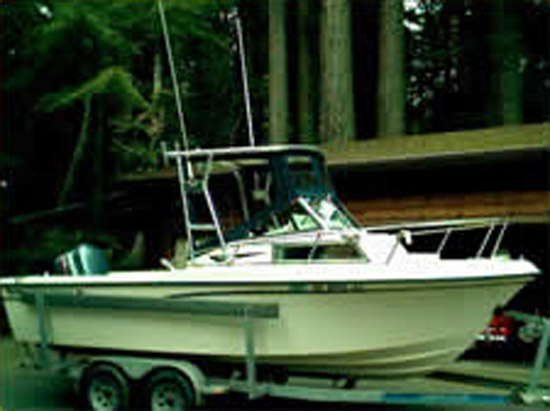 I purchased your special hardtop for my 20 ft. Grady White and I'm very impressed with the quality of your product. I and acouple of buddys installed it and found it fit perfectly. Installation was a snap. It has made our fishing experience much more enjoyable! Thank you very much, Rick Sturiza 13520 Skyline Blvd. Woodside, Ca. 94062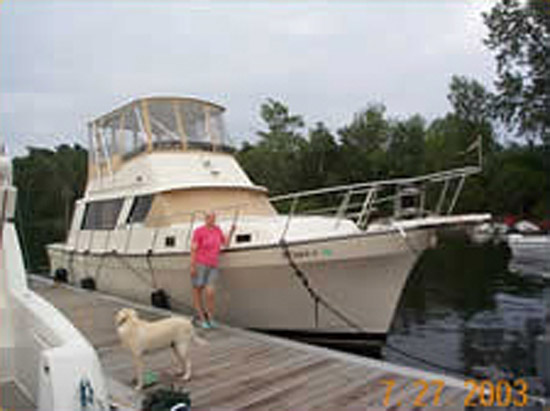 Attached are photos of the top you made me for my 1988 Mainship 36 sedan. I took deliver in Shelton Ct this spring and did the installation myself. I am very pleased with the product and thought you my like the photos for your website. A friend of mine has a 2001 Silverton 35' convertible. We were wondering if you have ever made a hardtop just to cover the aft cockpit and still allow access to the bridge via the stairs? If you have already done something similar could you send photos and an approxomate price? Thanks! Paul Allard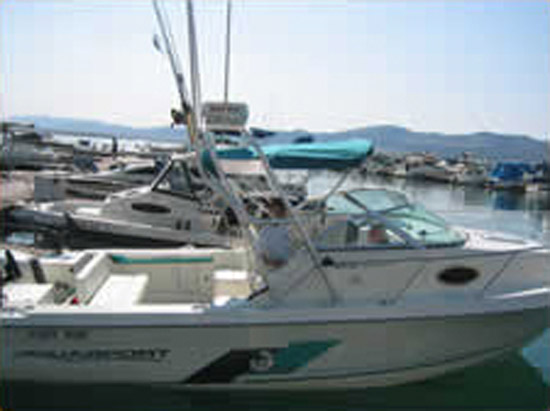 Attached are pictures of the completed installation of the Fishing Arch and Out Riggers on my 1999 Aquasport 215 Explorer. The installation went well and I'm very pleased with the quality of the product. One of these days went my top wears out, I will contact you about adding a hard top. Thanks again for providing a excellent product. Sincerely, Dave Colburn Mead, CO