Connect with us on

Thousands of Boaters Rely On the
Quality of Atlantic Towers
For 27 years, Atlantic Towers has been one of the marine industry's most respected names in fabricated aluminum products. Atlantic Towers was founded in 1981 as a custom fabricator of tuna towers for blue water battle wagons. These rugged aluminum towers stood tall over boats owned by many of the top names on the offshore tournament circuit. And Atlantic Towers performed custom work for such notables as the publisher of Salt Water Sportsman magazine,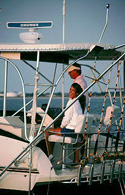 the Chairman of Raytheon, the Chairman of Icon, and the gold record artist Billy Joel. As Atlantic Towers' reputation for quality grew, so did requests for a broader range of aluminum products. The team at Atlantic has successfully combined their experience in design, engineering and production manufacturing to develop a more extensive product line that maintains the company's high standards of quality and craftsmanship. These structures are now available in three distinct product categories; Tower in a Box, quickly adjustable to fit a wide range of boats, and available right now, using the same high quality materials and proprietary fittings as our full out custom structures; Custom Structures are custom built for you using our extensive data base of designs for thousands of power boats. One-offs, built just for you. HiLine Structures for large express cruisers, convertibles and motoryachts. Our unique hardtop construction allows us to mimic the look of expensive factory installed equipment at a fraction of the factory or custom yard price.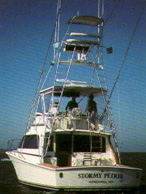 Each year, Atlantic Towers supplies over a thousand boat owners with high quality fabricated aluminum structures at a price that makes sense. Atlantic Towers' price is low because we buy high quality materials in quantity and have more than two decades of experience manufacturing aluminum products efficiently. You will not be giving up a thing in appearance, quality or structural integrity. Every unit carries the same attention to detail as the big tuna towers which are still logging hundreds of miles each summer on runs to and from the deep water canyons of the Atlantic Ocean.
Today, structures from Atlantic Towers bring utility, weather/sun protection, added value and striking good looks to thousands of boats from 17 to 110 feet. The line-up of products includes T-Tops, Fishing Arches, Hardtops, Half Towers, Radar Arches, Aft Deck Covers, Outriggers, Rod Holders, and Rocket Launchers. Every aluminum structure has been designed by an Atlantic Towers' engineer to be strong and durable as well as pleasing to the eye.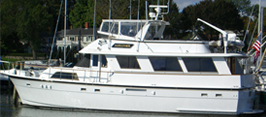 Many Atlantic Towers' products are designed for easy bolt-on installation by the boat owner - a feature that can save many dollars when compared to factory or fabricator installed tops or arches. Regardless of the make or model of the boat you own, Atlantic Towers can provide a quality welded aluminum product that meets or exceeds boat manufacturers' specifications.
As you browse this web site, please click on Products for a closer look at the complete selection of marine-grade aluminum products from Atlantic Towers. For an example of how a particular product looks on a boat similar to yours, click on Photofinder. This photo archive shows what a handsome addition an Atlantic Towers top or arch will be to your boat.
Once you select an item that suits your needs, contact us by phone toll-free at 1-800-831-8889, or Fax 609-361-8500, or email our Director of Marine Sales sgolden@atlantictowers.com. We'll be happy to answer any questions you may have, and we are ready to take your order. You'll purchase with confidence that your Atlantic Towers product will be built by skilled craftsmen, backed by a 5-Year Limited Warranty.
After 27 years in the business, we know what boaters want and we pride ourselves on building equipment that helps make every trip out on the water more of everything you're out there for.


Association and Memberships
Atlantic Towers is a member in good standing of the Michigan Boating Industries Association, National Marine Manufacturers Association, Northwest Marine Trades Association, and New Jersey Marine Trade Association.