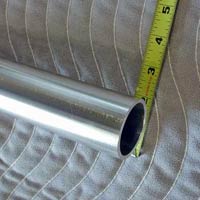 For Sailors, the "Tower in a Box" Arch from Atlantic Towers is designed to mount to the deck, transom, hull sides or a combination. The approximate 30 degree angle, clears most existing biminis, back stays, and pushpits. Mounting hardware (feet) is shipped loose and epoxied and screwed into the legs at the time of installation. The legs may be trimmed for the best overall height, and at unequal lengths to facilitate installation. There is a choice of mounting hardware, with 3.5" or 2" diameter bases. Our proprietary pin and pad mounting system accommodates any angled mounting surface.
Telescoping design allows adjustment to fit many different transoms and applications.
High Strength welded frame of schedule 40 marine grade aluminum pipe nearly 2" in diameter, with secondary reinforcement of nearly 1 3/8" in diameter finished in durable salt resistant bright clear anodizing
The Arch has the appearance and strength of a custom welded unit when installed on your boat. It weighs less than 100 pounds, and is strong enough to support the weight of two persons for the installation of equipment.
---
| | |
| --- | --- |
| Every Arch includes a large (approximately 12" x 12") radar plate, plus four 4" wide mounting plates which will accommodate up to six additional antennas. Radar cables, antenna cables and other wiring may be concealed inside the frame The Arch is mounted to your boat in four locations with our proprietary "Pin & Pad" mounting hardware. These fittings have nylon bushings which help isolate any vibration in the Arch from the fiberglass surface of your boat. The "Pin & Pad" fittings also allow mounting to any angled surface, and easy dismounting of the arch (just remove the four 3/8" bolts) for storage or transport. You have a choice of 3-1/2" 5 bolt bases click here for details, or 2" diameter 2 bolt bases click here (new page, Kit #6 detail) Cupped feet, to allow direct pass thru of electrical cables are available at additional cost. | |
---
| | |
| --- | --- |
| Everything is included for a complete installation on most boats, even backing plates along with instructions and a video detailing all the steps of the installation. | |
---
Available Options:
Atlantic Towers manufactures a wide variety of fittings and specialty hardware that allow Sail Arch owners to design and build a variety of individualized applications. Including Solar Panel array supports. Davit arms, lifting eyes, outboard motor brackets, etc.

KIT7700 Clamp on Wind Generator Base & Mast $395

Wind Generator Base and Mast can be clamped anywhere on the top of your arch. Comes with a 40' length of 1 1/2" Schd.40 which can be permanently fitted into the receiver with two part epoxy, or made removable with the use of machine screws or quick release pins. The 1.90" outer diameter of the 1 1/2" schd.40 pipe fits many popular wind generators.

KIT78000 Clamp Assembly/Lifting Eye.
Sold as pairs $159

An extruded anodized aluminum clamp assembly that can be used to secure a lifting tackle to the arch.





KIT79000 Extension davits. Sold as pairs $389

Can be mounted to top of arch to extend the "pick point" of the lifting eyes up to 24" behind arch. Includes two 42" Schd.80 extensions, end caps, curved washers, clamp assembly lifting eyes, and all hardware needed for installation. Some drilling required.

KIT76000 Solar Panel Mounting Kit $190

Allows you to mount solar panels anywhere on your arch. Kit contains (2) 5ft lengths of 1" x 2" x 1/8" rectangular aluminum tube, (4) plastic end caps, (8) Curved Washers, and all hardware needed for installation. Some Drilling Required

Need more rod holders? Individual Adjust-O-Launcher aluminum rod holders can be mounted anywhere on the perimeter of the Sail Arch framework. A unique patented design available exclusively from Atlantic Towers, manufactured from all aluminum in natural aluminum or gold anodized finish Adjust-O-Launchers can be pivoted thru 12 positions for unmatched flexibility $109 each

55 Watt Deck Lamps Option
55 watt conventional halogen deck flood lamp with replaceable bulb in waterproof housing. Current draw, 4.8 amps each, 9.6 amps a pair at 12 volts. Wire with minimum 14 gauge (always used tinned stranded wire for marine applications). Includes choice of mounting bracket to fit any Atlantic Towers structure.
Sold in Pairs
Tower in a Box Arches - Pair MP150 with 464-21 Bracket: $149
Custom Arches - Pair MP150 with 464-20 Bracket: $149

LED deck flood lamp from Lumitec
More light, less current draw than conventional halogen lamps. Current draw less than 1 amp each (less than 2 amps a pair) at 12 volts. Wire with minimum 20 gauge (always used tinned stranded wire for marine applications). Includes Choice of mounting bracket to fit any Atlantic Towers structure.
Sold Individually
Tower in a Box Arches - Single MP152 with 464-21 Bracket: $199
Custom Arches - Single MP152 with 64-20 Bracket: $199
---
**NOTE: There is a 10% re-stocking charge for cancelled or returned merchandise**