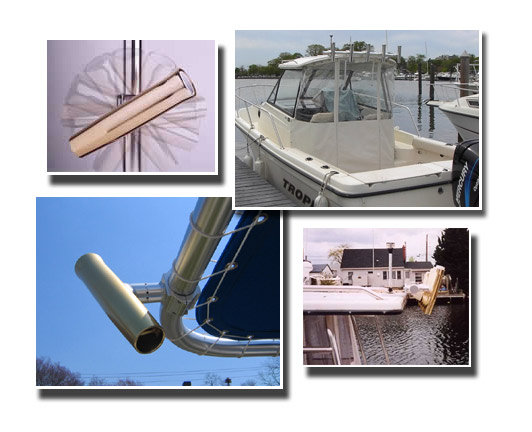 Adjust-O-Launcher Rod Holders provide a fast and easy way to add more rod holders to any aluminum tower structure. Ajust-O-Launchers feature a fully tapered aluminum rod holder with welded butt pin and full liner, welded to a patented precision machined clamp assembly that allows the rod holder to be indexed into 12 positions. You can clamp this rod holder on ANY tower, and adjust it to ANY position. Marine Grade anodized finishes are available in Clear natural aluminum.
Adjusto Launcher Rod Holder Array
For mounting Adjust-O-Launcher Rod Holders on a hardtop, or under a flybridge bridge overhang, we offer an Adjust-O-Launcher Array. A curved mounting bar of 1 1/2" aluminum pipe (measures 1.90" o.d.) with a pair of heavy duty mounting brackets that swivel to accommodate any camber hardtop or deck. The standard Adjust-O-Launcher Array is 50" overall, and includes two mounting brackets, complete with bolts and backing washers, plus 5 Adjust-O-Launcher Rod Holders in a clear anodized finish. The Adjust-O-Launcher Array can also be custom made to any overall length, and fitted with any number of Adjust-O-Launcher Rod Holders.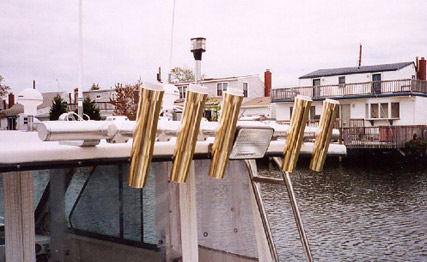 click photos to enlarge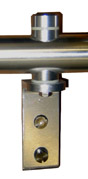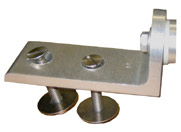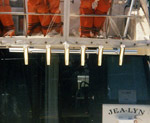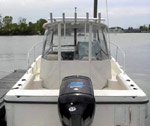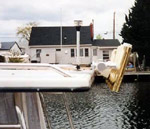 Adjusto Launcher Rod Holders Pricing
each
4 or more (ea)
AJ30500C
1 1/2" pipe size Clear
$129.00
$119.00


KITAJ500
Adjust-O-Launcher 5 Rod Holder Array
$1199.00