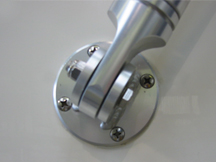 Nearly All Atlantic Towers Custom Arches and Custom Hardtops mount using a pin and pad connection developed over 25 years ago. This basic hardware combination is capable of handling every kind of structure up to and including large tuna tower.
Atlantic Towers structures are designed to be inherently rigid they do not rely on mounting pads to hold them rigidly. By using a coupling with flexibility instead of a flat welded pad, wind and machinery induced vibration is isolated from gel coat surfaces, virtually eliminating the possibility of gel coat cracking or crazing around mounting pads.
A two part fitting, also allows the structure to be easily demounted, should you wish remove your tower for trucking or storing your boat. Simply remove the 3/8" stainless bolts and your arch or hardtop can be lifted out of the mounting pads. If you have clearance problems, check our Hinge Kit for Custom Arches, which allows them to be easily folded for bridge, highway or storage clearance.