Proprietary telescoping design allows adjustment to fit walkaround fisherman and express cuddy cabins to 26+ and 8'6" beam High Strength welded frame of schedule 40 marine grade aluminum pipe which measures 1.9" in outside diameter, finished in durable salt resistant bright clear anodizing.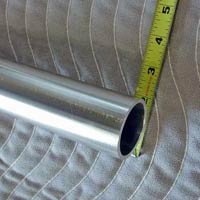 ---
The Fishing Arch is designed to fit around existing canvas bimini and navy style tops. It will not interfere with most side curtains, windshield covers or cockpit covers.

The Fishing Arch has the appearance and strength of a custom welded unit when installed on your boat
---
---
| | |
| --- | --- |
| The Fishing Arch is mounted to your boat in four locations with our proprietary "Pin & Pad" mounting hardware, for more details click here. These fittings have nylon bushings which help isolate any vibration in the Fishing Arch from the fiberglass surface of your boat. The "Pin & Pad" fittings also allow easy dismounting of the arch (just remove the four 3/8" bolts) should you wish to store your boat in a building with a low door, etc. | |
---
Available Options:
| | |
| --- | --- |
| KIT02000 & KIT02200 Hinge System, our most popular option, allows the Standard Radar Arch to be folded for increased clearance, normally installed to allow the arch to fold aft into the cockpit area. The Hinge System replaces the standard "Pin & Pad" mounting hardware, with hinge hardware and fairing pads for the aft leg and a custom slotted fitting for the forward leg, allowing the insertion of a quick release pin (also supplied) to allow the arch to be released and folded without the need for tools. $259 ($399 if purchased separately) | |

AJ30500
Adjust-O-Launcher
Need more rod holders? Individual Adjust-O-Launcher aluminum rod holders can be mounted anywhere on the perimeter of the Sail Arch framework. A unique patented design available exclusively from Atlantic Towers, manufactured from all aluminum in natural aluminum or gold anodized finish Adjust-O-Launchers can be pivoted thru 12 positions for unmatched flexibility. Fits all marine standard 1-1/2" pipe (1.90" o.d.)
AJ30500C Clear Anodizing: $129.00
AJ30500G Gold Anodizing: $159.00

AJ31000C Adjust-O-Net Holder
Utilizing our same unique patented Adjust-O-Launcher system, the Adjust-O-Net Holder can be placed anywhere on your structure. The Clamp Assembly is anodized to the same hardness as your structure and may be installed and removed without marring the finish of the structure. You can try as many positions as you wish. Available in clear natural aluminum.
Sold Individually for $109.





Anchor/Running Light, a two way navigation lamp installed on an anodized aluminum mast with anodized finish to match the Standard Radar Arch. Functions as all round light with both sides illuminated, or forward steaming light with just forward half illuminated. Custom fitted shoe allows easy bolt-on installation on centerline of The Standard Radar Arch. 5" height or 18" height. $169

MA22000A
5" Anchor Running Light with LED Head
MA22000P
5" Anchor Running Light with Perko 2 Way Head
MA22200A
18" Anchor Running Light with LED Head
MA22200P
18" Anchor Running Light with Perko 2 Way Head
**NOTE: There is a 10% re-stocking charge for cancelled or returned merchandise**
Due to our dedication to continued product improvement, we reserve the right to make changes without notice.