Super Sail Arch
Adjusts to fit 120" to 170" - Custom Sizes on Request

#1000 ibs weight capacity*
Universal Arch Design Makes Installations on
Most Catamarans and Large Monohulls Possible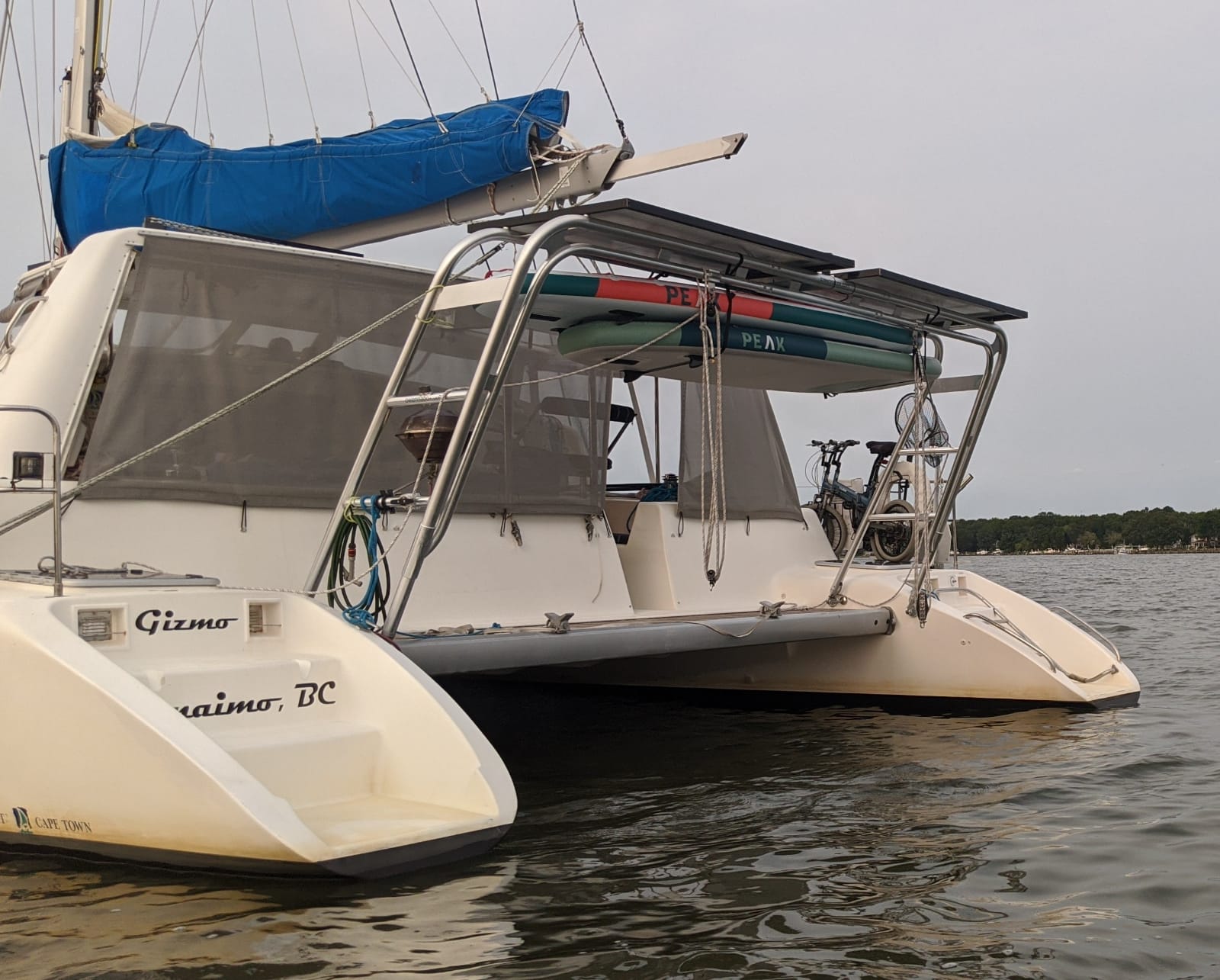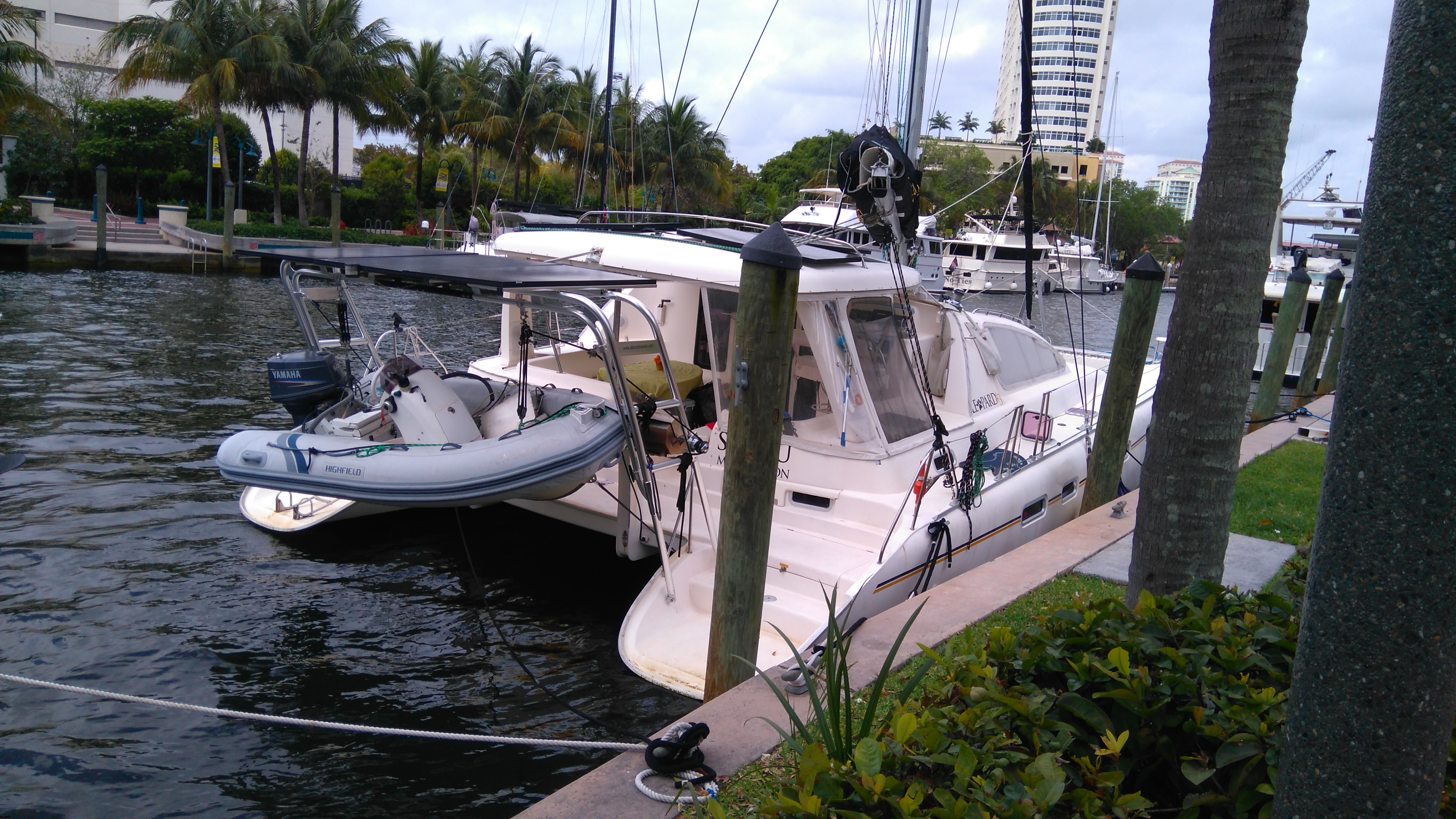 Super Sail Arch, distance between forward legs and after legs is the same
---
Custom Sizes: PRICE ON REQUEST
Since the introduction of the "Tower in a Box" Sail Arch in 2009, A thousand plus sailors have cruised tens of thousands of miles, carrying solar panels, tenders, wind generators, and every other type of gear imaginable on their Sail Arch. Truly the "swiss army knife" of marine structures, Cruising Sailors have taken this high quality, highly flexible, easily adjustable structure and adapted to their personal yachts and their personal needs.
Now in answer to requests for a "Tower in a Box" Sail Arch that is large enough for Cruising Catamarans and large Monohulls, here comes the SUPER SAIL ARCH. The Super Sail Arch can handle over 1000* pounds of equipment, solar panels, and tender with outboard when the load is properly installed and distributed..

View all Radar Arch Options
Universal Arch Makes Installations on Hundreds of Other Makes and Models Possible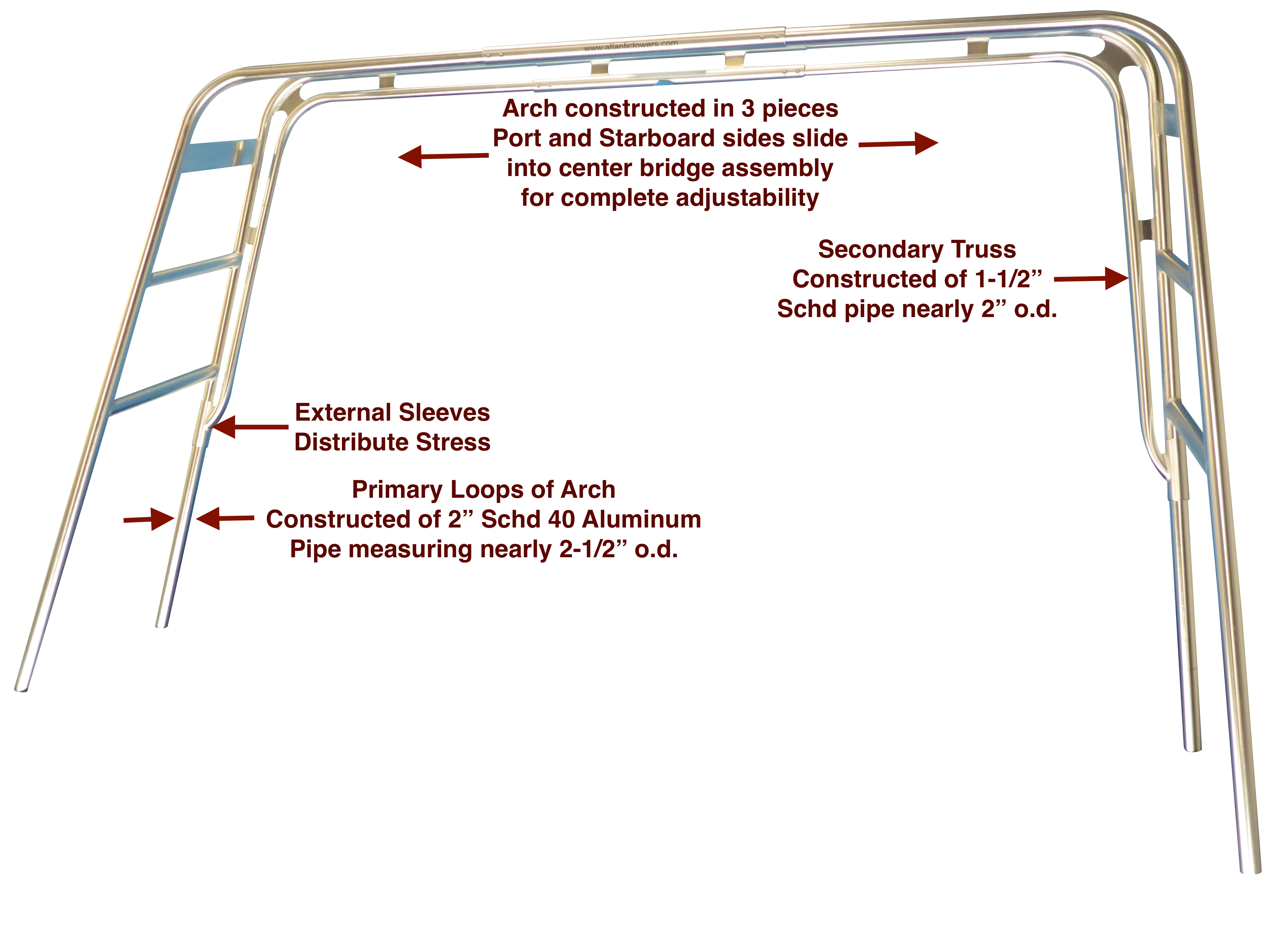 ---
Every Arch includes a large (approximately 12" x 12") radar plate, plus four 4" wide mounting plates which will accommodate up to six additional antennas. Radar cables, antenna cables and other wiring may be concealed inside the frame The Arch is mounted to your boat in four locations with our proprietary "Pin & Pad" mounting hardware. These fittings have nylon bushings which help isolate any vibration in the Arch from the fiberglass surface of your boat. The "Pin & Pad" fittings also allow mounting to any angled surface, and easy dismounting of the arch (just remove the four 3/8" bolts) for storage or transport. You have a choice of 3-1/2" 5 bolt bases click here for details, or 2" diameter 2 bolt bases click here (new page, Kit #6 detail)
---
Everything is included for a complete installation on most boats, even backing plates.

:



*Ultimate working weight capacity off the structure is dependent on many factors all of which are variable, including the installed beam dimension, strength of the mounting areas on the yacht, pre-load, distribution of weight across the structure. Please consult with us regarding intended usage if you have any question about capacity
---
Available Options:
Atlantic Towers manufactures a wide variety of fittings and specialty hardware that allow Sail Arch owners to design and build a variety of individualized applications. Including Solar Panel array supports. Davit arms, lifting eyes, outboard motor brackets, etc.

KIT77700 - Side Mount: $299

Wind Generator Mast. Comes with a 40' length of 1 1/2" Schd.40 which can be permanently fitted into the receiver with two part epoxy, or made removable with the use of machine screws or quick release pins. The 1.90" outer diameter of the 1 1/2" schd.40 pipe fits many popular wind generators.





KIT79000 Extension davits. Sold as pairs $599

Can be mounted to top of arch to extend the "pick point" of the lifting eyes up to 24" behind arch. Includes two 42" Schd.80 extensions, end caps, curved washers, welded lifting eyes, and all hardware needed for installation. Some drilling required.

KIT78000 Clamp Assembly/Lifting Eye.
Sold as pairs $199

An extruded anodized aluminum clamp assembly that can be used to secure a lifting tackle to the arch.

Clamp on Cleat $119

An extruded anodized aluminum clamp allows you to add a cleat anywhere on the side or truss of your Super Sail Arch.

AJ30500
Adjust-O-Launcher
Need more rod holders? Individual Adjust-O-Launcher aluminum rod holders can be mounted anywhere on the perimeter of the Sail Arch framework. A unique patented design available exclusively from Atlantic Towers, manufactured from all aluminum in natural aluminum or gold anodized finish Adjust-O-Launchers can be pivoted thru 12 positions for unmatched flexibility. Fits all marine standard 1-1/2" pipe (1.90" o.d.)
AJ30500C Clear Anodizing: $119.00
AJ30500G Gold Anodizing: $129.00

Kayak or Paddleboard Rack

Made from 1 1/2" schd. 40 anodized aluminum pipe with an outer diameter measuring 1.9" and features eye bolts for tying down equipment along with grip rail to prevent any slipping or damage. With three different clamp on or bolt on versions available, the rack can be clamped or bolted to existing arches, hardtops, davit systems, bow rails, and foredecks. $299
---
**NOTE: There is a 10% re-stocking charge for cancelled or returned merchandise**
Due to our dedication to continued product improvement, we reserve the right to make changes without notice.