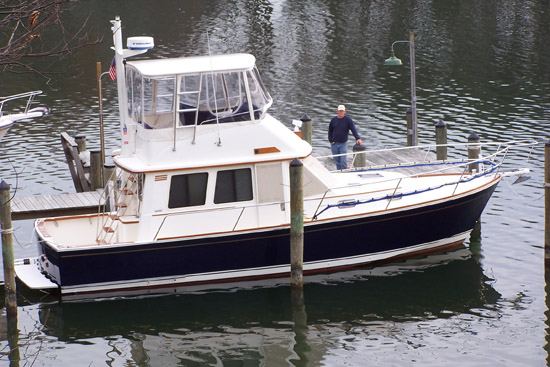 Don/Shelley; Andy installed the top this afternoon and I just want to tell you how happy I am with the entire project. Don, your design suggestions (and measurements) were terrific... the lines are in keeping with the traditional styling of the boat and match perfectly with the angles of existing railing. Andy did a superb job with the installation... and took some pictures for your website of the finished product. I can see why you use him for your installations... he does quality work. Shelley, I couldn't be a more satisfied... the whole experience of working with Atlantic Towers has been great!
Thank you, Barry Wynkoop

Shelley; I thought you might want to have a few photos of the "finished" product for your website… the Atlantic Towers hardtop looks like it came straight off the Sabre factory floor; and our local canvas shop here in Solomons, MD (Quantum) did a superb job with the strata glass enclosure too. You wouldn't believe how many nice comments we have received in our travels (I always recommend Atlantic Towers as the source!) Happy Holidays!! Barry Wynkoop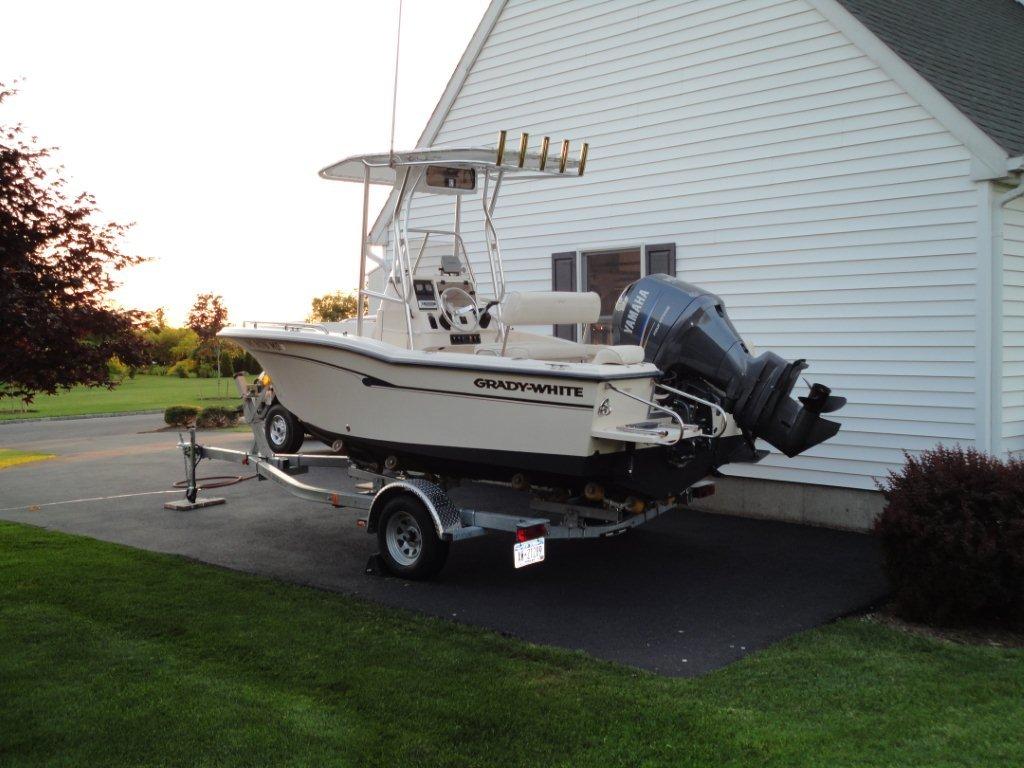 T TOP FROM YOU GUYS LOOKS GREAT VERY HAPPY THANKS FOR YOUR PRODUCT
Hi Shelly, well it took a lot longer that I had planned, but we finally finished the new T-Top install and hit the water on Saturday May 1st.
Attached are a couple of pictures of the boat and top and some detail where we made changes from your install instructions. Essentially we didn't want to drill any holes in the tubing, in part due to the amount of wire we had to run it would look like a piece of swiss cheese. We were also worried about weakening the structure due to the holes and the hard way we tend to run. I used the extra square tubing clamps to fabricate a mount for the antenna's and rear flood & safety light and mast head light/flag pole. We used two more drilled and tapped into a machine aluminum bar in place of the delrin side supports. We used longer braces in the front to achieve a true X-brace to further stiffen the frame. Lastly the majority of the wire was run in flexible conduit into the top of the radio box and the out of the box to the console. NOTE - Your spacing on the radar mounting plates may be too wide, we installed a 24 mile Sitex radar and the mounting base was narrower than your plates.

Hope you enjoy the pictures, let me know if you have any questions.
Tim Hoffmann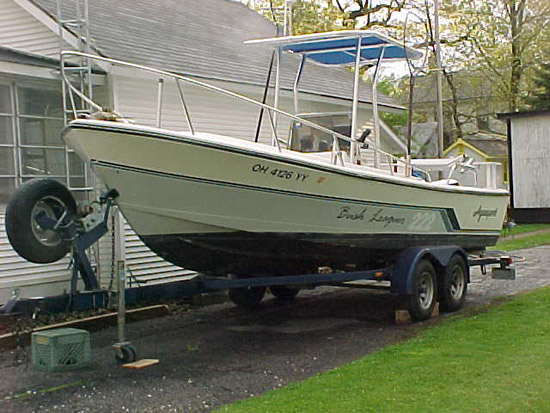 I thought I would send a quick email to let you know how happy I am with your product. The install was easy and the quality of the product is phenomenal. I have attached some pictures of the finished project. Thanks again! Matt Bush Equipment Manager The Ruhlin Company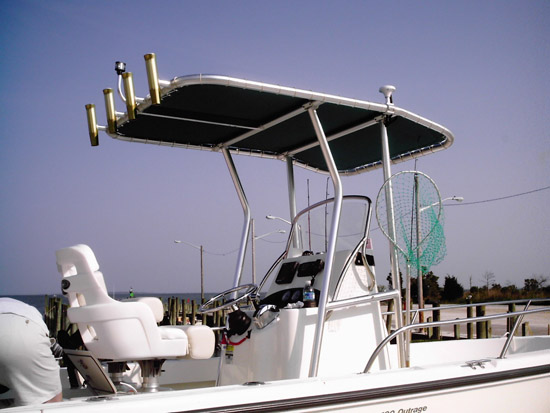 Thanks guys, the top looks great on my Boston Whaler 190 Outrage! Kevin Boyer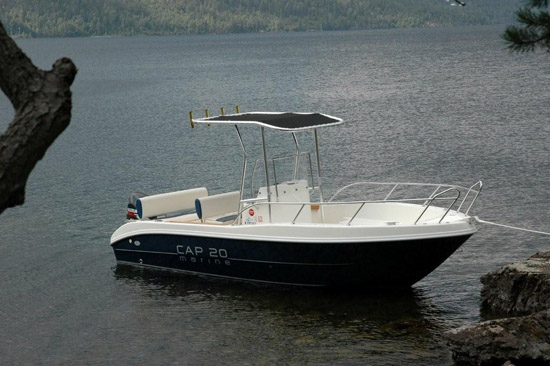 Hello Shelley I received the T-Top only 7 days after you ship it from your place. I think the top looks great on my Cappeli 20 Open! Bets regards from Norway Lars B.Johansen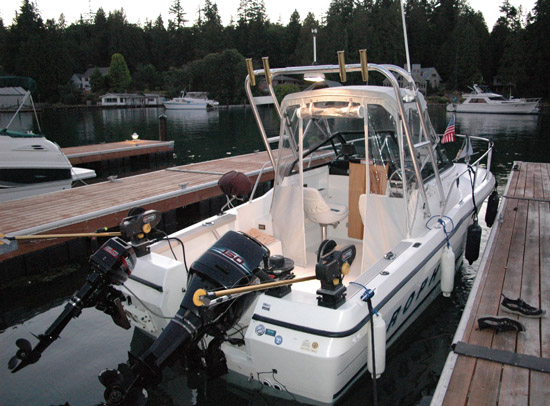 Good day from the west… My son and I have a 1997 Trophy and recently purchased one of your "Towers in a box" here in Seattle..very pleased with the installation (it was a do it yourself project), product is very well engineered, instructions easy to follow, no surprises. Our purchase was primarily for safety, and secondarily for storage of extra rods and nets. We mounted a deck light which works well when preparing for those early morning bites… Add the picture to your archives…. Cheers, Dan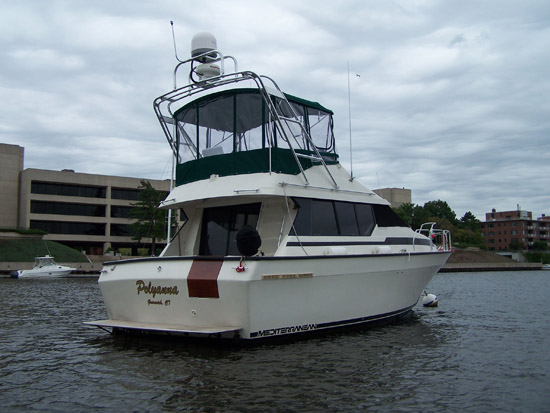 Thanks Tony Izzi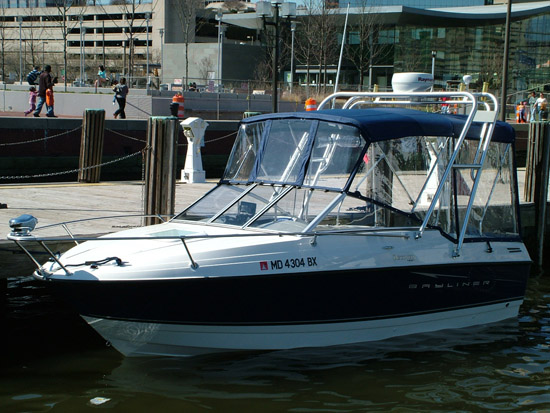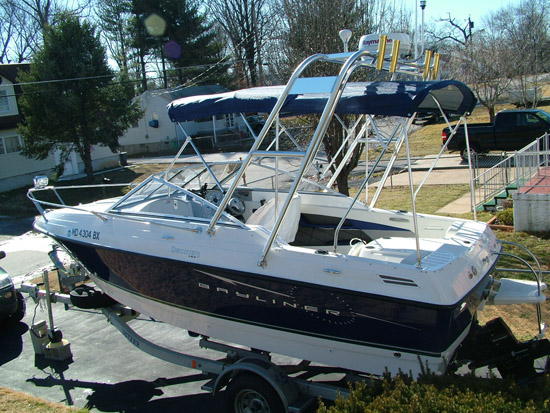 Dear Susan,
Just wanted to thank you for the great service, prompt install timing and great customer oriented tecnicians. Besides a great product your installers were in guidance of this project which turned out wonderfully. Keep up the great work,
Pat and Danny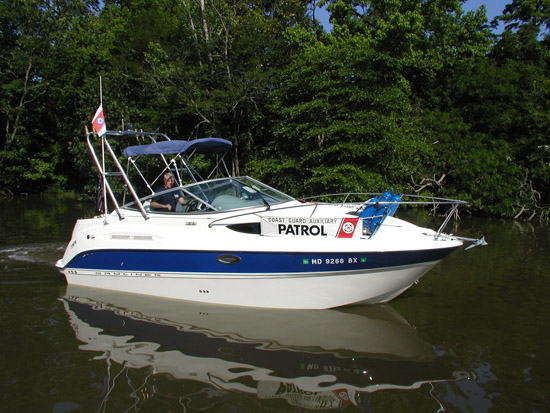 Here is a picture of our 2006 Bayliner 245 ready for patrol with the Coast Guard Auxiliary. After reading, rereading, and severa; viewings of the video, my wife and I installed the radar arch ourselves. It looks great. Joe & Peggy Barry Pasadena, Maryland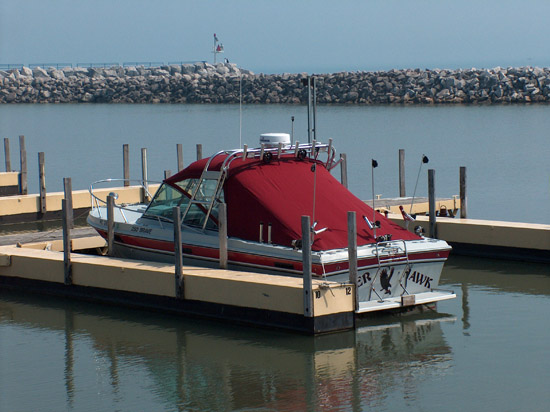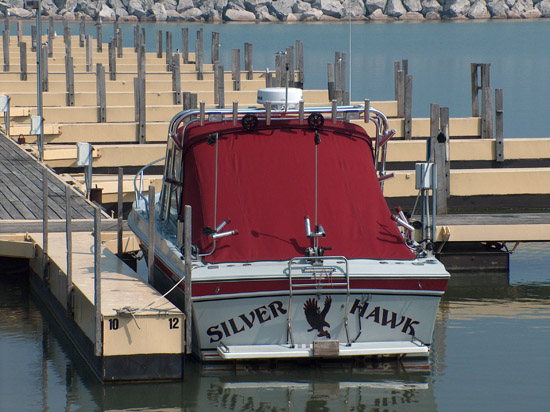 Shelly, I've had my tower for a whole year now, what an absolute dream it's been, I get tons of compliments on my boat, because of the tower. It was definitely the greatest looking boat in the marina when I took these pictures. Not bad for a boat almost 25 years old. The tower folds down when I'm towing down the road, very practical, we mounted it in an afternoon, wired everything the following morning. Very cool! Jim Nichols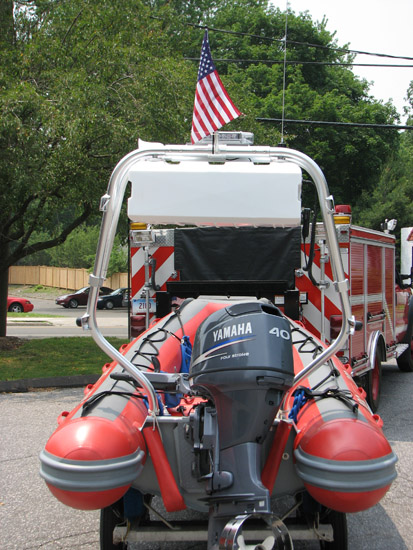 Thank you for the EZ to install arch. We will look for it on your web site. Gary Willson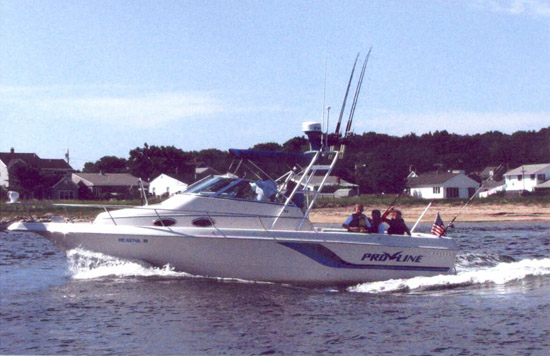 Here is a picture of my Pro Line 251 with your radar arch installed. The installation went with ease and no problems. SFC Aaron Ashcraft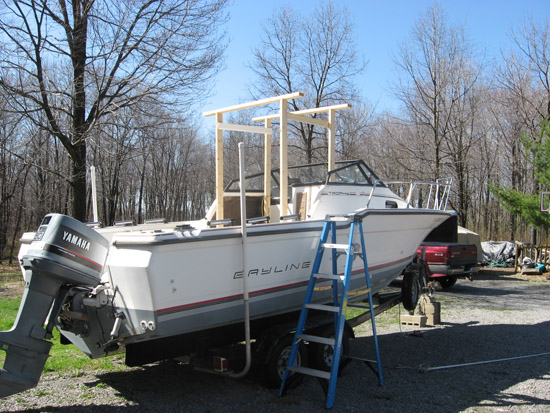 Dear Shelly It's been 2 years now since I put this hardtop on my boat and have only had positive responses on how it looks and how strong it is, I took pictures of the installation which I did myself with a little help from a friend, the installation instructions were well laid out and we had no problems following them except for the part that tried to explain the slope of the top in relation to the boat, we just kind of eyed it up and it came out perfect.
The only hard part was having to lift the top in and out of the boat a few times as adjustments were made to the height and angle of the support structure and for other procedures that were done.
Ron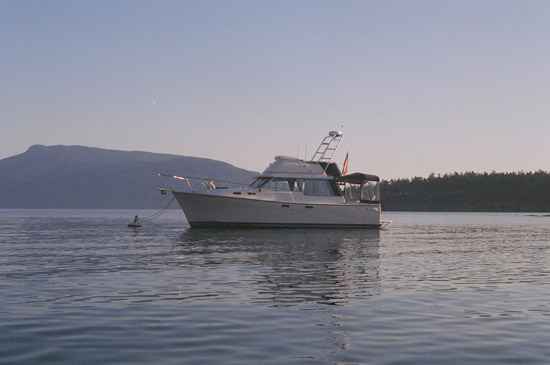 Shelly: Per your mail request, enclosed is a photo of your arch installed on our Bayliner 3270. We purchased the arch in the spring/early summer of 2007 and installed it ourselves (our son and me) at our moorage slip in Eagle Harbor, Bainbridge Island, Washington. It took five or six hours and went up fairly well. Would use a chop saw next time to cut the tube. Believe it or not… we didn't drop any part or tool in the water during installation. Thanks. Pete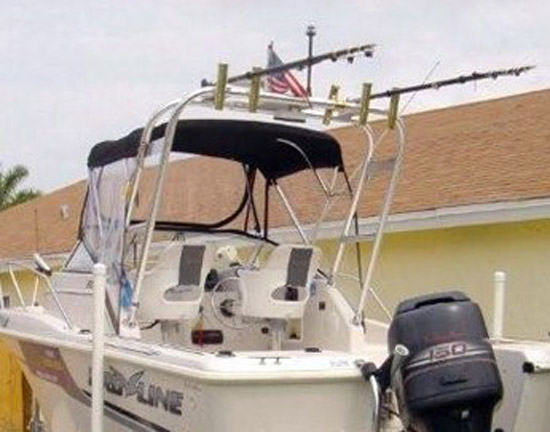 Hello, Installing the tower was easy and fast. The package was complete. It had everything we needed. We will like to see if we could get the tickets for the Miami Boat Show, because is the closest one to us. Thank You Jorge Sigler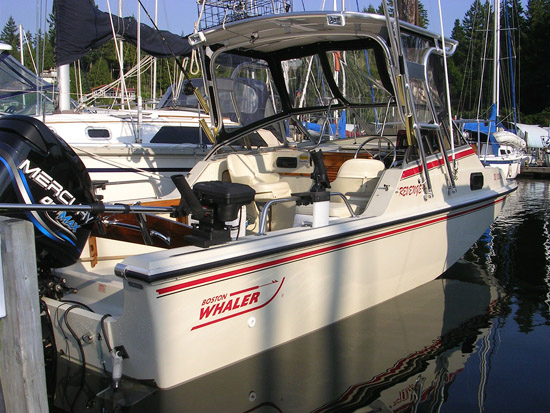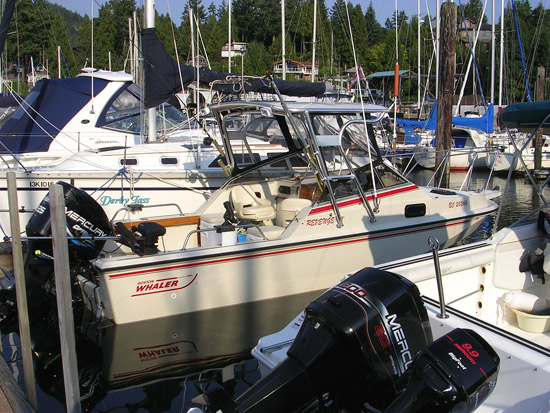 Hi Shelley and Valerie & Atlantic Towers Team, Thank You, the custom hardtop for my 1990 22' Boston Whaler Revenge is just perfect. I think the best part about Atlantic Towers over any other company is how easy it is for someone to find the perfect top for their boat. If your boat is over 10 years old finding someone to customize a hardtop that looks good, and fits properly, is extremely hard and costly. With Atlantic Towers chances are they have already created a mold for your boat. This is outstanding because wherever you are in the world it is as easy as making a phone call to their experienced staff that know your boat and model already. After completion you can have it sent to your doorstep ready for installation. Installing it was more challenging than we first thought. We had some issues with one side of the arch, as it would not line up to the pin holders. Although it was measured perfectly a thousand times the bar would not fit easily. In fact the front left side leg was out 1/2 an inch and the back left beam was in 1/2 inch. The end result was a 1/2 inch lip on the front left side when everything was completed. We were forced to re-drill and compensate for the ½" by lowering the leg but by doing so we needed to use rather excessive force to bend the bar into the pin holders. It was the only way. I hope that by using this force it will not damage the hull structure. Please let me know what you think. Overall I am very pleased with the design and the look of the top on the boat. It seems to be an eye catcher. We have received many compliments on your design and have recommended the Atlantic Towers name. It proves to be extremely functional and adds a whole lot more to the Boston Whaler model. I appreciate your time and effort. I have enclosed some photos for you if you would like to see how it all worked out. Please feel free to use them if n for your advertising. Just recently we have added some canvas enclosure to the hardtop. My wife and I actually redesigned the pre-existing soft-top and refitted it to the front dash of the cockpit.
They are very good and had no problems creating a custom fitting to the hardtop. Hopefully next year I will be able to complete the canvas work that would include a back piece with doors. Thanks, Martyn Smith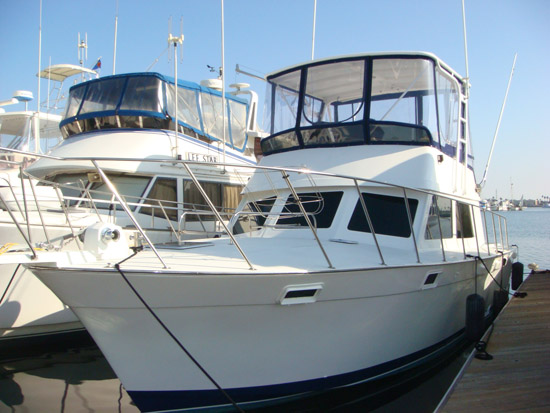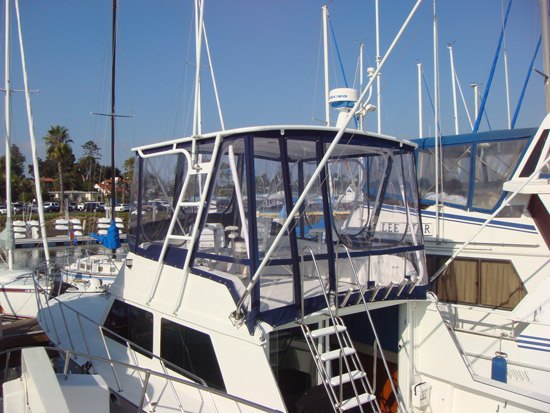 Shelley, Here are the photos of the top you sold me a couple years ago. My boat is a 1974 LUHRS 40' Sportfisher. I have attached before and after photos for effect. The boat is based at the Coronado Yacht Club in Coronado, Calif. I have had a lot of posittive comments and interest in your product.
I am glad we added a little more curve to the top than standard; otherwise it would have appeared too flat for the shape of the boat. All in all, a good looking old boat! If you still have tickets to the San Diego or LA boat show, I could use two or three. John Andersen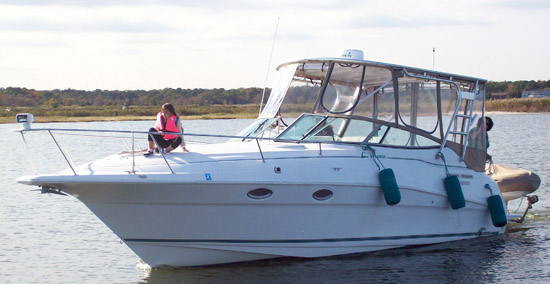 Hi, Here is a picture of my boat a 1996 Cruisers Rogue 3175 with your hardtop for your web site. Regards, Paul Pereira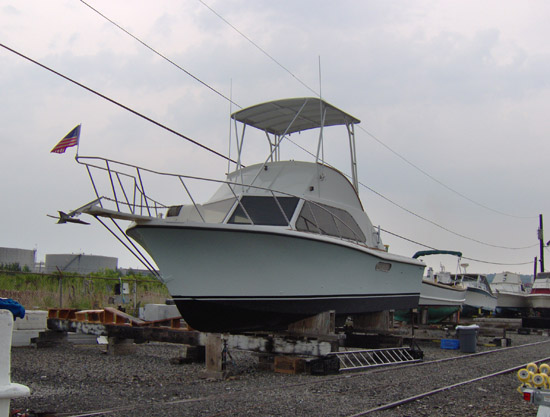 I RECIEVED YOUR LETTER AND I AM SENDING YOU THE PICTURES OF MY BOAT WITH THE TOP INSTALLED. THE DIRECTIONS FOR THE INSTALL WERE GREAT BUT I AM MECHANIC. FOR SOMEONE THAT CAN'T SCREW IN A LITEBULB IT MIGHT BE A LOT MORE DIFFICULT. THE ONLY SUGGESTIONS I HAVE ARE MAYBE MAKE A INSTALLATION VIDEO AND PREHAPS A TECH HOTLINE TO AID WITH ANY QUESTIONS OTHERWISE I FEEL THE KIT WAS A BREEZE TO INSTALL AND WOULD RECOMEND YOUR PRODUCTS TO ANYONE BY THE WAY THE BOAT IS A 1973 31' JERSEY SPORTFISH THANKS AGAIN THE TOP IS PERFECT.
SINCERLY CHRIS PONCZEK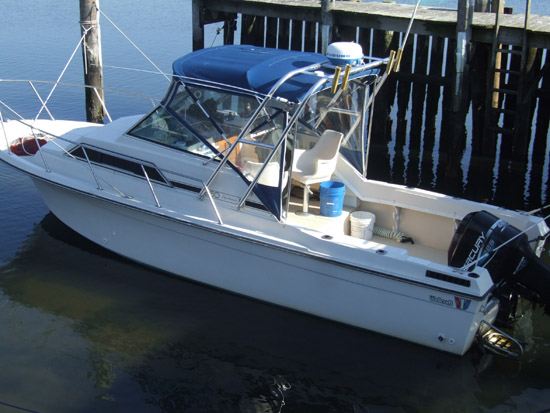 Hi Shelley Ive had your tower on my Wellcraft 250 Sportsman for 2 years and I love it. The installation was quite simple. Myself and two friends put it on within about 5 hours with no difficulty at all. The DVD was very helpful as it gave you an almost hands on teacher to learn from.
As you can see I have put a radar on it also and running wires inside the tubing was the most challenging but once you got a chase wire through it it was smooth sailing..
I would definitely recommend your product to anyone. Thanks for making my boat a little more good looking and enjoyable. Rick